Vivan Futehally, founder of Pure Brot in rural Maharashtra, looks at the place bread has in Indian life.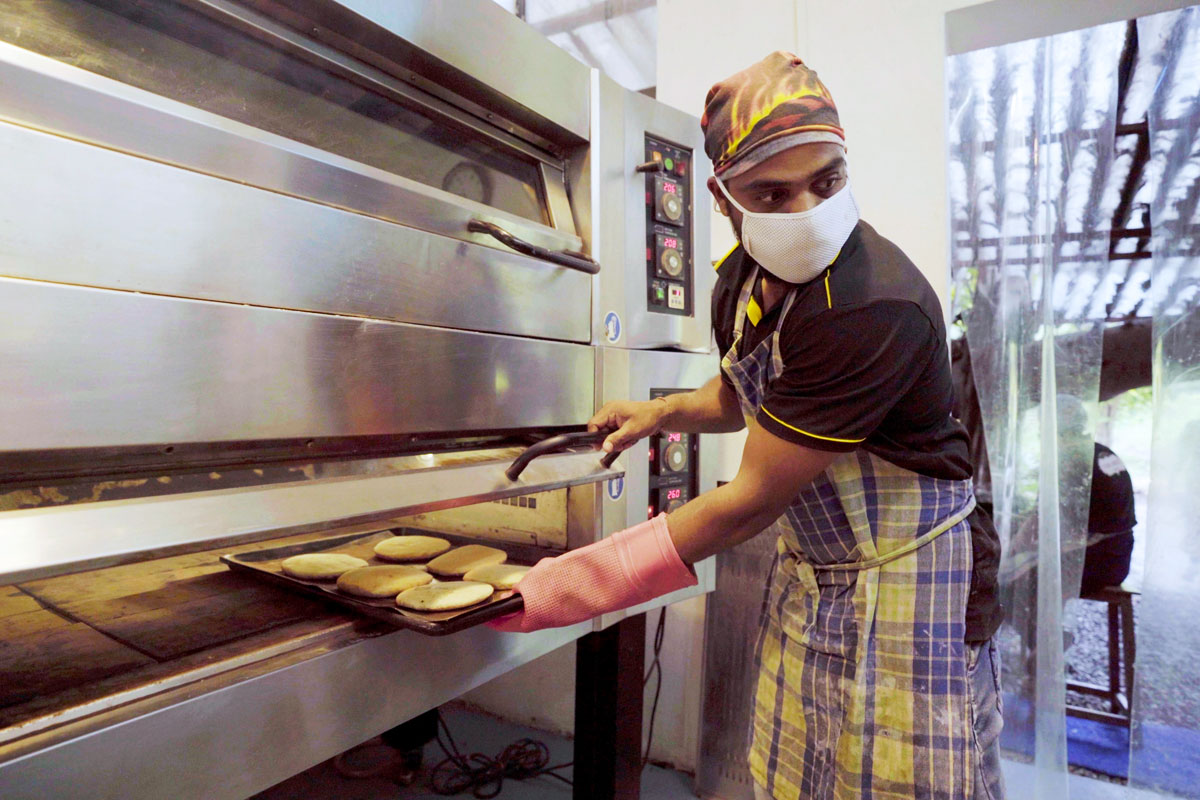 Pure Brot baker Hitesh at work © Impossible Foods LLP
Ask almost anyone the world over what Indian bread is and the typical answer is likely to be naan, chapatti or roti - and they'd be right! The making of unleavened flatbread is a culinary tradition that's been part of most Indian households for centuries. Whether baked in a tandoor, on a tava/tawa (heavy, flat or slightly concave pan for dry or shallow frying), roasted over hot coals, deep fried or steamed, every region boasts its own type, reflecting the rich diversity of India's bread basket.
Foreign influences
What's interesting is that India's oldest regional bread traditions rarely, if ever, had much to do with fermenting wheat. That is until the Portuguese invaded Goa in 1510. Unable to get their daily pão [see this article] they created poie. Made with whole wheat flour and a few drops of toddy (fermented palm sap) to act as the leavening agent, then baked in improvised ovens, Goan poie is recognised as one of the most important innovations in India's culinary history. The name also lives on in the popular Mumbai street snack pau (or pav) bhajii – curried veg in a soft, usually white, bread roll.
That India's baking was also greatly influenced by the import of wheat and culinary traditions from the Middle East is apparent even today, with many local bakeries still owned and run by Muslims. It was during the 19th century that Persian-style Irani bakeries started thriving. It's these bakeries, influenced by colonial rulers, that first started baking leavened bread. They remained the mainstay of the commercial baking industry until shortly after India's independence from British rule in 1947.
Commercial bakery
In post-Independence India, the baking industry's zeal to modernise evolved as a counter movement to the extremely unhygienic conditions of many bakeries at the time. Alongside the continuing hyper-local, 'cottage industry' production of roti, naan and other flatbreads, what became the norm was - and still is - white sliced loaves from large manufacturers like the Britannia Baking Company. Meanwhile, approximately 200,000 small bakeries produce breads like pau, laadi/ladi and brun. While these bakeries have skilled bakers, and produce the vast majority of loaves and rolls in India, they lack quality. White flour products became the new normal, with so-called whole wheat bread assumed to be the healthier version, despite often being made from refined flour and merely coloured brown using malt or caramel.
Over the last two decades, food trends in India have followed patterns similar to those abroad, with the 'healthy' tag being attached to an increasing number of products. Sadly, clever marketing and higher prices often seem to be all that set them apart. The reality is that a lot of what is sold and consumed in India is made using emulsifiers and other additives, poor-quality oils and processes that deprive the consumer of a healthy product. Today, there are only a handful of small companies and home bakers who produce high-quality, leavened Real Bread.
A new wave
Pure Brot evolved as a part of my company, Impossible Foods, based in the seaside village of Kihim, 100km from Mumbai. Our vision was - and still is - to bring together small-scale farmers with modern food production to create world-class products for the evolving Indian consumer. My wife is a promoter of healthy eating and living, so when our daughter was born conversations turned to the paucity of Real Bread available. As I have part-German heritage, bread and engineering are somewhat in my DNA, so tinkering with bread seemed a natural progression for the business.
My journey of making great-tasting, healthy, organic, Real Bread, free from junk has been wildly interesting. Crafting India's low-protein flours into great quality, wholegrain breads that are healthy and nutritious in every sense of the word, while also delivering a taste and crumb that any bread lover in the world would recognise as an exceptional loaf, has taken creativity. Baking at ambient temperatures during the hot, humid monsoons and summers has been one of the most challenging parts of making Real Bread here and has required constant innovation.
We source our ingredients from independent farmer collectives as well as established companies. Our bakers come from varied backgrounds and have trained on the job as none arrived with any culinary experience, let alone had baked world-class sourdough bread. While idyllic, the bakery's countryside location has pushed our team's skills and commitment to the limit to overcome the lack of resources here. I'm proud to say our team's customer commitment to providing Real Bread is exceptional and we wear The Loaf Mark on all our products with pride.
The future
In an ironic twist, the ongoing global pandemic has launched Real Bread into the limelight here as elsewhere, with social media awash with pictures of sourdough starters and artisan breads. While the situation has caused immense suffering to many people, business couldn't be better for many bakeries. It's also safe to say that Pure Brot is one of the very few Real Bread bakeries in the country moving beyond what is perceived to be Indian bread. With Indian consumers slowly moving towards higher quality, and the number of microbakers promoting artisan bread growing by the day, Real Bread and we are here to stay.
---
Originally published in True Loaf magazine issue 45, January 2021
Published 20 Feb 2021
Real Bread Campaign: The Real Bread Campaign finds and shares ways to make bread better for us, better for our communities and better for the planet. Whether your interest is local food, community-focussed small enterprises, honest labelling, therapeutic baking, or simply tasty toast, everyone is invited to become a Campaign supporter.
Support our charity
Your donation will help support the spread of baking skills and access to real bread.