In 2014 Steve Croft looked at Britain's Community Supported Bakery movement and where it might be heading.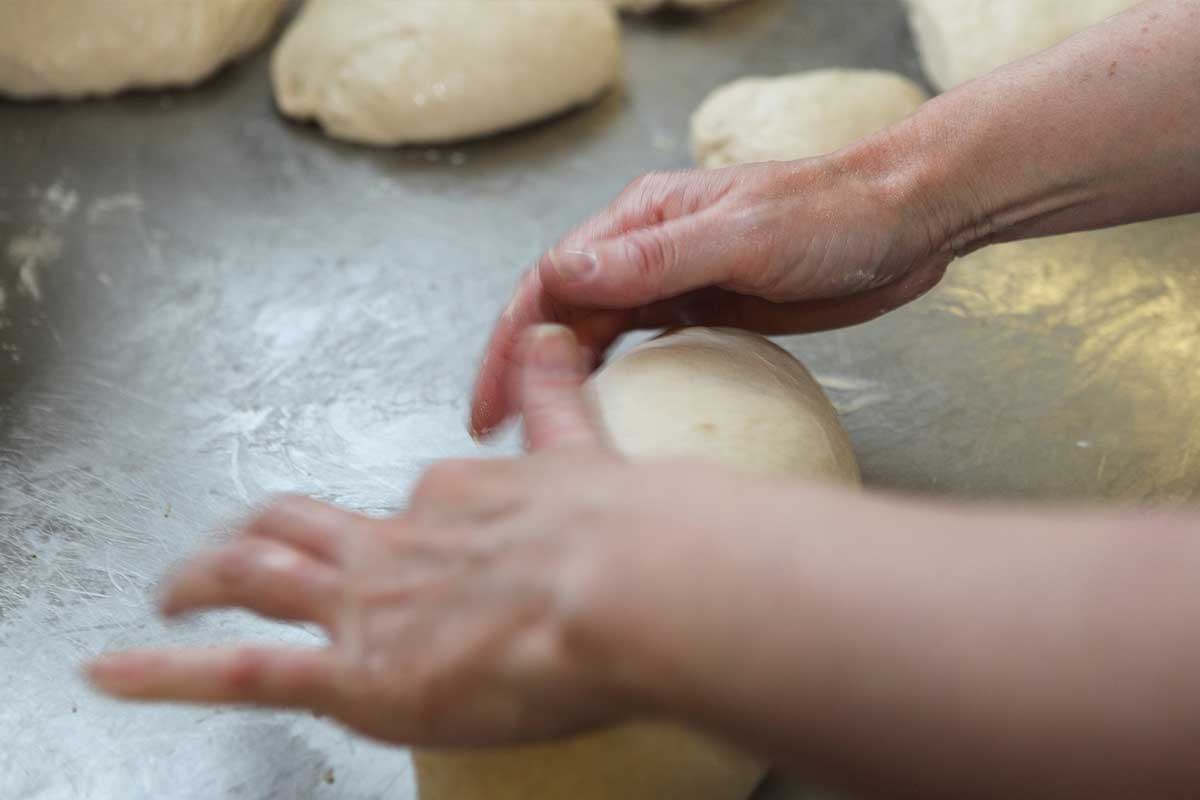 Photo © LoveBread CIC
Search the internet for a Community Supported Bakery (CSB) association and (unless you count the Real Bread Campaign) you won't find one. Nor are you likely to find CSB in a handbook of business studies. So, just what is a CSB? Is it a social movement, a business model or something else?
Bringing people closer
For answers, I first contacted Dan McTiernan who in 2008, with his wife Johanna, established Britain's first CSB, The Handmade Bakery. He said: "Community Supported Bakery is similar to Community Supported Agriculture in that it asks people to buy shares in food production by subscribing to a regular purchase of produce. The relationship between producer and consumer is much closer. Having consumers commit money in advance gives the producer confidence in a future income that allows them to invest in their business."
I next spoke to Bread Matters and Real Bread Campaign co-founder Andrew Whitley, on whose Baking for Community course McTiernan had been a student. Whitley believes that another vital element is getting people closer to food production: "CSB encourages people to understand more about their bread, value it more, and so feed their families better."
Profits and values
Despite this and closer relationships between the people behind CSBs and customers strengthening their goodwill and loyalty, Whitley recognises that as a business model it still presents challenges: "It is not easy to adopt; you must completely change your thinking from a model solely committed to a profit motive."
McTiernan is a now a member of a Community Supported Agriculture project in northern Spain, while The Handmade Bakery continues as a worker-owned cooperative, but as he recalls: "We were making great bread and as more people wanted to buy it we were faced with what, under a traditional model, would be an obvious business need to expand. It would have been easy to lose sight of the values we started out with and simply become a wholesale bakery."
This quandary is echoed by Zig, who co-founded Leeds Bread Co-op in summer 2012. Working from a small industrial unit near the city centre with fellow baker Phil, they are committed to the ethos of CSB but equally realistic about the need to balance the books. Zig said: "Like anyone else we have a bottom line and bills to pay. Our cooperative structure means we aim to pay a living wage and be fair to people who work for us, so we do a fair amount of wholesale baking for local coffee shops, cafés and farmers' markets."
Zig explains how the subscription part of the business fits with their wholesale work: "Our subscribers are, in some respects, our closest customers. Many of them were people who helped us get going when we sought crowdfunding for the business, and they are generally the ones most interested in what we do. The irony is that the subscription part of the business is the least profitable and most difficult to manage. We have multiple orders for single loaves that change every week. Top that with the difficulties in getting subscribers' bread out to them and it is a very challenging part of the business."
Serving a community need
Another West Yorkshire CSB is Love Bread in Brighouse. Baker Carole Roberts echoes the difficulties of running a subscription service and hints at perhaps the future for CSB: "There were just not enough interested people for us to be solely subscription based; there isn't much of a foodie culture here in Brighouse. What we did find though was a huge appetite for bread among schools and many other community groups in West Yorkshire. The more we talk to people about bread, the more we build new relationships and become involved in projects that meet the needs of homeless people, people living with mental ill health. We might not have a large subscription service but we are very much serving a community need."
Carole is also finding that 'community' isn't necessarily defined or limited by geographical proximity. "We were fortunate to have great business advice from many organisations, including fellow bakers like Leeds Bread Co-op, there is a developing network of people who recognise the importance that decent food has in helping people have meaningful lives. Nobody is going to get rich running a CSB, our fellow bakers seem to accept that and simply help each other without being over competitive."
The future
The number of fully-fledged CSBs that use crowd funding and community shares to become established, run as worker-owned cooperatives, and receive most of their income from pre-paid subscriptions are still relatively few in the UK. What has taken off, however, are microbakeries, bread clubs and other 'alternative' Real Bread enterprises that build CSB elements into their business models, meaning that the revolution continues to gain momentum. It may be a bit of a cliché, but these bakers really are changing the world one loaf at a time.
---
Originally published in True Loaf magazine issue 20, July 2014
Published 17 Aug 2020
Real Bread Campaign: The Real Bread Campaign finds and shares ways to make bread better for us, better for our communities and better for the planet. Whether your interest is local food, community-focussed small enterprises, honest labelling, therapeutic baking, or simply tasty toast, everyone is invited to become a Campaign supporter.
Support our charity
Your donation will help support the spread of baking skills and access to real bread.