…you DO talk about the Real Bread Campaign!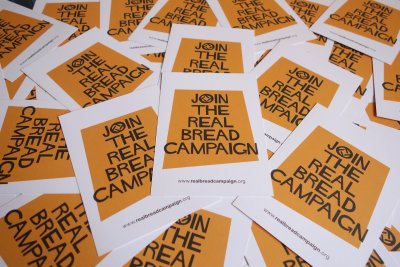 Credit: Sustain
The Real Bread Campaign is run by the charity Sustain, which relies almost entirely on annual contributions from our supporters,* to be able to keep flying the flag for Real Bread. Thank you!
Check that you're a current supporter
If you know you're not, please join us.
If you think you are, please login to your record to double check. Your support might've lapsed and you missed our emails inviting you to re-join.
If your record shows you're not a supporter and you think you are, is there another email address you might've used to join us? If you've tried all emails, then please drop us a line and we'll investigate.
Spread the word
As people's financial situations and priorities change (or they simply don't get round to renewing their support) it's vital that we continue welcoming new supporters into the fold.
YOU can help with this by pointing people our way, for example by:
Tagging us in the captions of social media posts.
Displaying our postcards at your shop, stall, mill, baking school etc.
Talking to people – customers, colleagues, family, other friends…
Telling local journalists, bloggers, broadcasters etc. what you and your Campaign are up to.
More ways to help
We are THE network championing Real Bread and the people behind its rise, and challenging obstacles to everyone having the chance to choose Real Bread. We know that times are tough but if you are able to do more to support us, please do.
Perhaps you could…
Make a doughnation
Buy (or even stock) our books and other Real Bread gifts
Sign up to The Real Bread Loaf Mark scheme
Advertise here in the magazine
To find full details of what we stand for and do and how you can support us, please visit the Real Bread Campaign website.
*Which is why we say supporters, rather than members.
Published 12 Jun 2023
Real Bread Campaign: The Real Bread Campaign finds and shares ways to make bread better for us, better for our communities and better for the planet. Whether your interest is local food, community-focussed small enterprises, honest labelling, therapeutic baking, or simply tasty toast, everyone is invited to become a Campaign supporter.
Support our charity
Your donation will help support the spread of baking skills and access to real bread.