Hen Corner's Sara Ward introduces Eamon, whose passion for baking is helping him to reclaim his place in the world.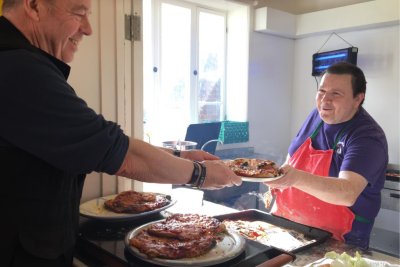 Eamon at work. Credit: Emmaus Norfolk & Waveney
Imagine the scene: you're standing amongst mature trees in a pretty courtyard, with beautiful views over the sprawling countryside, and you find a café in the grounds of a former convent in Ditchingham, Norfolk. A bowl of soup, crusty bread roll, coffee and cake later, you meander through the orchard. Children are enjoying the wooden playground and just before you head into the second-hand furniture shop, you turn to take in the amazing, peaceful setting once more. It sounds idyllic, doesn't it?
The Old Orchard Café sits at the heart of what once was home to the Sisters of All Hallows. It is now the base for Emmaus Norfolk & Waveney, one of 28 Emmaus communities in the UK. Emmaus is a homelessness charity that was founded in Paris in 1949 and now works across four continents, offering people a home, training, employment and a support package for as long as they need. This safe environment creates a feeling of stability, allowing companions the chance to rebuild their confidence and self-esteem.
All of Old Orchard's food is freshly prepared by experienced café manager Sue, ably supported by companions from the on-site community of up to 32 formerly homeless people. While Sue's team are in the kitchen or serving customers, other companions will be tending the veg plots and grounds, upcycling donated furniture, or working in the social enterprise retail shop that generates income to help support the community.
Introducing Eamon
One of the companions working with Sue in the catering team is Eamon, who first fell in love with baking as a child. "My gran taught me how to make a simple soda bread," he reminisces. This inspired him to work in a Battersea bakery when he left school. Later, Eamon trained as a chef and worked in kitchens of restaurants and pubs, where bread baking eventually became a distant memory.
A series of unfortunate events resulted in Eamon losing almost everything. "I ended up in a bad situation," he recalls. "I was suffering with my mental health and I was in a bad place. When things started going wrong, I couldn't deal with it." Things went from bad to worse. "I went to hospital for a while, whilst I was there, I lost where I was living and ended up on the street for about a year and a half." Fortunately, outreach workers found Eamon. While his needs were being assessed, he met someone from Emmaus, who invited him to visit one of their London communities.
"I lived at Emmaus Lambeth for seven months and they gave me the chance to put myself back together again" Eamon recalls. "I think the only person that can sort your problems out is yourself, but I just needed the opportunity to do so and Emmaus gave me that." During his time with Emmaus Lambeth, Eamon was offered a week's break at the Norfolk & Waveney community where, unsurprisingly, a love of the countryside was ignited. He left the hustle and bustle of London and started to put down roots in a new rural home.
Back to bread
While working in the kitchen every day since he moved to Norfolk, cooking lunch and dinner for the companions, Eamon realised that he wanted to get back into bread. "It's so nice waiting for the dough to rise, and the smell…" he says. When it was suggested that the bread making process might offer a form of therapy, a sense of healing and wholeness, he said: "yes, right from the beginning to the finish."
In June 2021, Eamon appeared on BBC One in a Countryfile feature about Emmaus Norfolk & Waveney. Eamon showed presenter Matt Baker how to make his grandmother's soda bread, telling him: "my plan is to do a baking course." Eamon went on to say that: "my plan from here is to learn how to make artisan bread, to really get into it and make it a career."
Within a couple of days of the show's broadcast, I received an email from a viewer, Sarah Thompson, so inspired by Eamon's story that she wanted to help him. Sarah's cousin, Jane Mason, founded the Bread Angels network, of which I am a member. Sarah sponsored Eamon to train with us as a Bread Angel at Hen Corner. This is our urban smallholding and microbakery in west London that we share with 28 hens and four colonies of honeybees, where we make up to 100 loaves of Real Bread and other bakes every Friday. This generous gesture led to café manager Sue and another member of the Emmaus team coming for an intensive training course of baking skills and business planning to support the opening of their new café.
The future
For now, Eamon is settled. "I like getting up in the morning at Emmaus because I have a purpose and it's my home, which is a great feeling," he says. He continues to cook for companions, staff, volunteers and visitors. He also makes Real Bread, pizza and more a couple of days a week for the onsite café. Focaccia, often topped with vegetables from the garden tended by other companions, is a real favourite. He tells me that his highlights have included getting good feedback for his food and managing to serve groups of 20 cyclists who can all turn up at once.
Looking forward, Eamon would like to spend more time in the café and perhaps get some work experience in a bakery. His big dream is to help set up a bakery at Emmaus Norfolk & Waveney, which already has two commercial kitchens and a faithful customer base of visitors to the grounds, shop and café. Hopefully, the team's clear vision and passion will soon make this dream come true.
As for me, I'm excited to be part of the story and can't wait to see where the journey goes!
@emmausnorfolkwaveney
@hencorner
---
Originally published in True Loaf magazine issue 53, January 2023
See also
Published 5 Jun 2023
Real Bread Campaign: The Real Bread Campaign finds and shares ways to make bread better for us, better for our communities and better for the planet. Whether your interest is local food, community-focussed small enterprises, honest labelling, therapeutic baking, or simply tasty toast, everyone is invited to become a Campaign supporter.
Support our charity
Your donation will help support the spread of baking skills and access to real bread.