Gareth Roberts on how he became a baker and part of the Real Bread movement.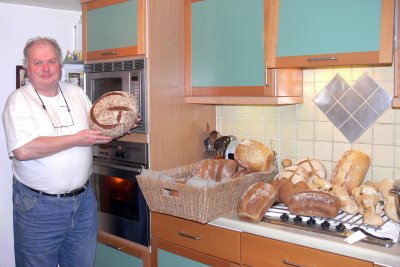 Amazing Grains Gareth Roberts. Credit: Fran Novak
It's hard to pinpoint a start for Amazing-Grains. A general disappointment at the state of 'bread' in Britain had been long brewing. It was whilst travelling that I discovered places where bread is held in esteem, made with skill, sold with pride, and selected for taste.
One day, I decided to start baking my own, initially with a bread machine, before moving on to mixing and kneading by hand. The alchemy of it was exciting, and it was a pleasure to be able to share with friends and neighbours, including one who ran a deli and persuaded me to supply them. I began exploring sourdough via the Internet's early newsgroups, through which Dan Lepard invited me to participate in his forum. This eventually led to joining the Real Bread Campaign, as well as meeting like-minded new friends at organised baking weekends, such as the annual Bethesdabakin'. [see True Loaf issue 7].
Redundancy offered me the opportunity to establish a small business distributing specialist foods. The most northerly town in Buckinghamshire, Olney lies 10 miles north of Milton Keynes, and equidistant to Bedford and Northampton, providing sizeable potential market within a 20 miles radius.
Growing confidence
The gift of a Panary weekend baking course with Paul Merry at Cann Mill, helped to bolster my range of breads, and I began supplying local pubs and restaurants. Some pubs actively encouraged me to bring in baskets of bread, selling to early evening customers, who were quick to enthuse over them, either for their taste or because they found them more digestible. I soon became known locally as The Breadman and my supplier Shipton Mill kindly provided more learning at their test bakery, where Clive Mellum helped improve my baking skills further. As confidence grew, the food distribution business declined, and baking became my full time occupation.
By now I was selling at the local farmers' market, and developed techniques to produce and shape dough one day, refrigerate overnight, and bake up to a dozen loaves an hour the next day. Our house was a small, two bed 15th century cottage, with a small kitchen dominated by a 30qt planetary mixer, a dedicated fridge in the shed, and a single oven. Since it was also home, my wife and I agreed ground rules: No selling from the house, and no working between midnight and 6am.
New lease of loaf
Averaging over 200 loaves a week, I was severely constrained by the limitations of the home. I considered several potential premises and creative sharing solutions, but put plans on hold after a cycling accident required 12 months' recovery. Then out of the blue came a rare opportunity to rent a small workshop right in the centre of Olney. The town was home to the clergyman and poet John Newton, who wrote The Olney Hymns, of which Amazing Grace is the most famous. So, with grains bringing a new lease to my life, Amazing-Grains seemed the perfect name for the new bakery.
Having renovated the workshop into a bakery, Amazing-Grains hopes to supply people in Olney and further afield with a range of Real Breads. Key to this will be using time as an ingredient for flavour, raising breads slowly, enabling me to sleep overnight and bake early the following day.
@amazinggrains
---
Originally published in True Loaf magazine issue 27, April 2016
Published 11 Apr 2022
Real Bread Campaign: The Real Bread Campaign finds and shares ways to make bread better for us, better for our communities and better for the planet. Whether your interest is local food, community-focussed small enterprises, honest labelling, therapeutic baking, or simply tasty toast, everyone is invited to become a Campaign supporter.
Support our charity
Your donation will help support the spread of baking skills and access to real bread.