Strength in diversity: Capital Growth Survey 2017-18
This survey of Capital Growth members was undertaken during the spring of 2018 and completed by 205 people who represent a London-based food growing garden. The questions covered details on the members' garden, their challenges, the usefulness of Capital Growth's support, and views on what our future focus could be.
Contents
Introduction
Headline findings
Who responded?
What you told us (part 1): About your garden
Who is benefiting?
Employment and training
Diversity
What are your challenges?
The need for land protection and designations
What you told us (part 2): About Capital Growth
Our offer
What impact is Capital Growth having?
What should we be doing next?
Our reflections on your feedback
Engagement
Value of the network
Innovation
Getting growing
Strength in diversity
Acknowledgements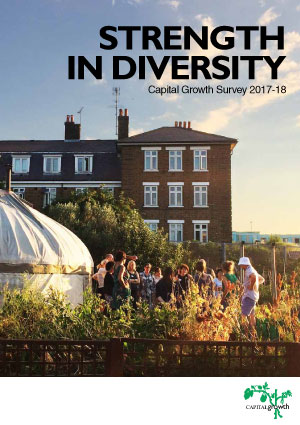 Strength in diversity: Capital Growth Survey 2017-18
24pp - 2019 | 2000Kb
Capital Growth: The Capital Growth campaign, run by Sustain's London Food Link offers practical and financial support to communities around London to help more people grow more food, and to have greater access to land and growing spaces for community benefit. The Capital Bee project, part of Capital Growth, seeks pledges to promote bee-friendly behaviour, and supports establishment of community beehives.