A briefing document produced by the Good Food for Our Money campaign calling for legally binding sustainability standards for seafood served in public sector institutions such as government departments, hospitals, schools, prisons and the armed forces.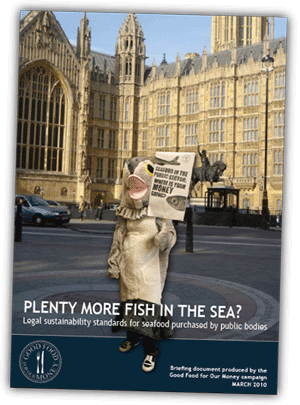 In this briefing document, Sustain's Good Food for Our Money campaign called on Government to support the "Public Bodies (Procurement of Seafood) Bill", introduced to Parliament by David Drew MP on 24 February 2010. This Bill would legally require that all seafood purchased by the public sector is proven to have come from sustainable sources.
A briefing document produced by the Good Food for Our Money campaign.
The international threat to seafood, particularly some fish species, is well-documented. There is consensus that fish stocks need careful management and a recognition that fisheries that are over-exploited can collapse suddenly and with irreversible damage. For example, a collapse of this kind occurred off the east coast of Newfoundland in 1992 when cod stocks vanished, the local industry evaporated and 40,000 people lost their jobs. Even now, the cod have not returned.
Data from the United Nations Fisheries and Aquaculture Department paints a very bleak picture for the state of our oceans. It estimates that 80% of the world's fish stocks for which assessment information is available are reported as fully exploited or over-exploited and, thus, requiring effective and precautionary management.
In British waters, we face an urgent problem. In the North East Atlantic, the majority of commercial stocks are fully exploited, overexploited or depleted, while British salmon stocks are considered to be fully or over exploited and North Sea plaice, cod and sole are considered to be outside safe biological limits.
The public sector is a big consumer of seafood, but it is not an ethical consumer of seafood. At the time of this briefing paper, public sector organisations were not required to meet ANY legally binding sustainability standard for the seafood that it buys. There is government guidance, but no rules. In fact, the government did not even require the public sector to meet the rules it introduced under the 'Fish Labelling Regulations', by which retailers must clearly label the origin and species, including the method of production, for all fish and fillets sold. Because of this, public sector organisations, often unknowingly, are buying unsustainable seafood. Some examples of this include the purchase of haddock in prison food without any assurance of its sustainability, and the serving of tiger prawns, dogfish and swordfish – which are often produced particularly unsustainably – in hospitals and to our armed forces.
This briefing paper sets out the case for legislation, to ensure that the public sector plays its role in conserving precious marine resources, and good livelihoods in fishing, for years to come.
NOTE: Since this briefing paper, and since June 2011, Government has now adopted mandatory sustainable fish standards for one third of public sector food - the food served in Central Government, prisons and some parts of the armed forces. Yet still, fish sustainability standards do not apply to two-thirds of the UK's public sector food - hospitals, schools and local authorities.
In 2012, Sustain launched the Campaign for Better Hospital Food. Please get involved to help win compulsory health and sustainability standards for food served in hospitals!
Sheep farmer. Credit: Cottonbro | Pexels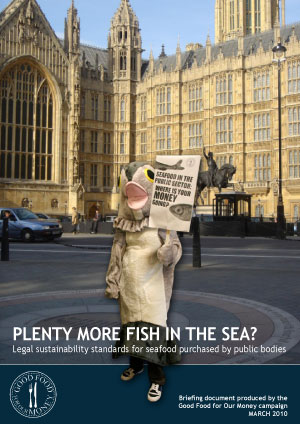 Plenty more fish in the sea - legal sustainability standards for seafood purchased by public bodies
3pp - 2010 | 487Kb
Published 10 Mar 2010
Good Food for Our Money Campaign: The Good Food for Our Money campaign ran from 2008 to 2011. After several notable successes, this campaign has now evolved to focus on winning healthy and sustainable food standards for hospital food, in parallel with Sustain's existing work on the Children's Food Campaign to secure healthy and sustainable food standards for school meals.