This briefing has been prepared to help councils' planning and public health departments understand how the control of hot food takeaways can create a healthier food environment.
It is based on our report which focuses on the role of planning authorities in relation to hot food takeaways: Hot Food Takeaways: Planning a route to healthier communities
The English planning system is undergoing changes. Please seek legal advice or check current rules before taking decisions.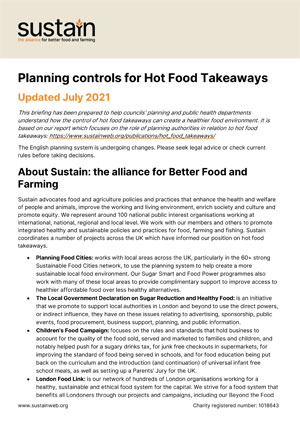 Planning controls for hot food takeaways
13pp - 2021 | 192Kb
Published 28 Jul 2021
Planning Food Cities: Find out how to get involved shaping the future of your local area to create a more sustainable and local food system.