National planning policies to set a new baseline for a sustainable food and farming system
Sustain calls for MPs to support sustainable food and farming through the planning system.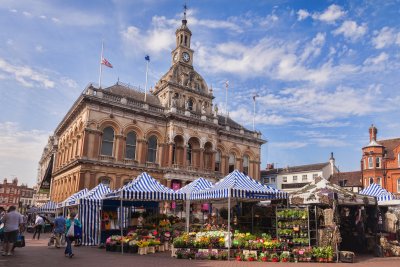 Town market. Credit: Travellight / Shutterstock
Sustain has submitted written evidence on the Levelling Up and Regeneration Bill. The paper will raise awareness amongst MPs and civil servants on the potential for planning to support a good food system, regardless of the future of the Bill.
Our submission relates to the proposal for National Development Management Policies in England. We see this part of the Bill as an opportunity to establish a consistent set of policies to achieve a sustainable food and farming system, that works for both people and planet.
Sustain supports the principle of national development management policies which are founded on core principles arising from national strategies. We believe this will free up local councils to prepare locally applicable detailed policies which will give clear guidance on what good development and land use will look like in their own place. This will put them at an advantage when development opportunities arise.
A national development management policy to achieve a sustainable food system could cover the following topics:
Food growing and production
Food Economy
Access to healthier food through retail
Access to healthier food in the home
Access to healthier food in the Public Realm
Sustain's Planning Lead, Gillian Morgan, points out this could be a win/win for local planning authorities: "Whilst local councils would not have to repeat nationally applicable policies in their local plans, it would not preclude more detailed local policies being drafted in consultation with local food partnerships."
An illustration of why a core national policy is urgently needed is the control of hot food takeaways to help to implement the Government's Obesity Strategy:
The requirement for every local planning authority to justify a local policy based on detailed local evidence is proving frustrating and extremely expensive for councils. Policies are consistently challenged by major companies who submit the same lengthy documentation. Some local planning authorities do not even have the resources to see their policy through at examination stage.
Check the submissions of evidence to the Levelling Up and Regeneration Bill.
What we're fighting for 2023
Support our work
Your donation will help communities to engage with their planning system to create a good food environment.