National development management policies to achieve a sustainable food and farming system.
The National Planning Policy Framework for England (NPPF), the Guidance to the National Planning Policy Framework and the National Design Code are supportive of a good food system. However, councils' awareness as to how they can use the planning system to enable their residents to access good food is over-reliant on input by community organisations, specifically by the members of the Sustainable Food Places network. This results in an inconsistent approach across the country.
Whilst community led planning is a strength of the planning system, councils should not have to rely on local organisations to raise and provide evidence on nationally strategic issues. Conversely, large scale private companies have the financial and human resources to challenge local authorities' planning decisions every step along the way.
One solution is to have more detailed national planning policies, founded on well researched core principles. We believe this will free up local councils to prepare locally applicable detailed policies which will give clear guidance on what good development and land use will look like in their own place.
This briefing, submitted to the Department for Levelling Up, Housing and Communities (DLUHC), lays out our suggestions for national development management policies to achieve a sustainable food and farming system.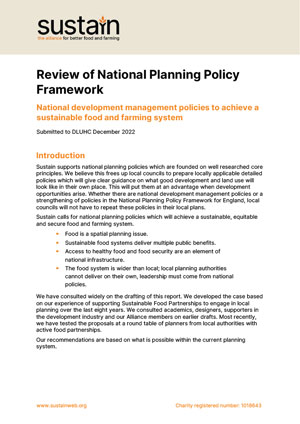 Policy briefing: Review of National Planning Policy Framework
2023 | 288Kb
Published 5 Jan 2023
Planning Food Cities: Find out how to get involved shaping the future of your local area to create a more sustainable and local food system.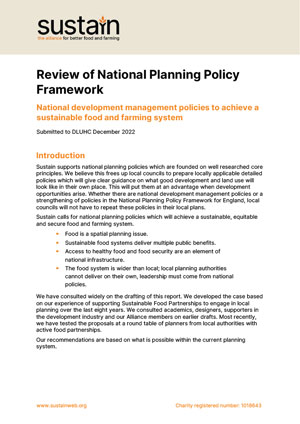 2023
288Kb
What we're fighting for 2023
Support our work
Your donation will help communities to engage with their planning system to create a good food environment.