Food growing on prescription
This report highlights the findings of a short piece of research undertaken with community gardens and food growing projects in London, to create a snapshot of how Social Prescribing is perceived, how garden leaders are or want to be engaging with these services and how to overcome the barriers to more people being referred to garden-based activities.
Report contents
Executive summary
Headlines
Background
Method of research
Respondents

Types of community gardens / projects
Garden activities

Findings

Awareness and perceptions of Social Prescribing
Engagement with referral services
Opportunities for engagement with SP
Barriers to engagement with SP
Resourcing social prescribing
Ways to increase contact and referrals

Conclusions
Recommendations

Local SP services/ VCS/ local groups
GLA (in partnership with Capital Growth or local networks)
NHS

Appendices

Survey Questions
Key graphs from survey
List of interviewees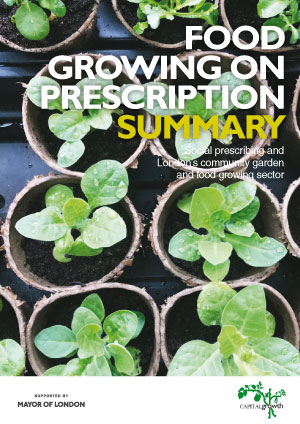 Download a summary version of this report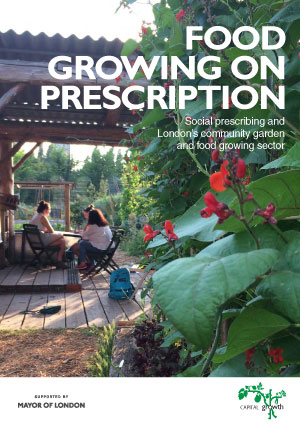 Food growing on prescription
38pp - 2019 | 2600Kb
Capital Growth: The Capital Growth campaign, run by Sustain's London Food Link offers practical and financial support to communities around London to help more people grow more food, and to have greater access to land and growing spaces for community benefit. The Capital Bee project, part of Capital Growth, seeks pledges to promote bee-friendly behaviour, and supports establishment of community beehives.