As the worst cost of living crisis in a generation takes hold, MPs, mayors, unions, faith leaders and medical bodies - including Sustain - are urging the new Prime Minister Liz Truss to take action to ease the pressure for every family.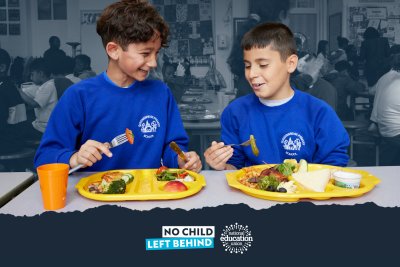 Children enjoying a healthy meal. Credit: National Education Union
Sustain's CEO Kath Dalmeny is one of 100 civil society leaders who have launched a new open letter to call on the Government to extend Free School Meals to every child in primary school in England. The letter is now available for anyone who supports the campaign to sign up too.
The letter, which launched on Thursday 22 September in the Mirror, includes leading figures from Gary Lineker to leading education, faith leaders, medical organisations, MPs and city mayors. It has been organised by the National Education Union's No Child Left Behind campaign and brings together a diverse coalition of groups.
Children's Food Campaign Co-ordinator Barbara Crowther says:
"There is an urgent need to provide targetted support for families with children who are facing increasing food and energy bills. We are rightly proud of our fantastic free education system, yet we continue to subject children to means testing for this one part of their school day, against a threshold so low that 800,000 children living in poverty in England are not even eligible.

Decent nutrition is fundamental to children's ability to concentrate, learn and thrive in school. Not only would expanding school meal provision effectively put money back into the pockets of hard working families, it could be a significant boost to all the food providers and caterers providing those meals, bringing more jobs and prosperity into the surrounding communities. The Prime Minister, Chancellor and Education Secretary should seriously consider a rapid expansion of school meal provision as part of any plans to address the cost of living and promote business growth across the nation."
Children's Food Campaign polling shows that 72% of UK adults would back free school meals for all primary school children as a measure to address the cost of living crisis.
A hot, healthy school dinner every day is the difference between a child going hungry and thriving in school. Last year an estimated 2.6 million children in the UK lived in households that went short of food. At the end of the summer term, school and education leaders warned of growing numbers of children arriving at school hungry or without adequate packed lunches, and increasing families falling into school meal debts, and the situation is now worsening.
In England, for the first three years of school, every child gets a Free School Meal and no child wants for food while they are at school. But this stops after Year 2.
In 2020, Scotland pledged to extend Free School Meals to every child in primary, and will complete the roll out during the current academic year. In 2021, Wales promised families they'll do the same by 2024, and are currently introducing free school meals to the youngest pupils. Four London boroughs - Newham, Tower Hamlets, Islington and Southwark - also already provide free school meals to all primary school pupils. In other countries including Sweden, Finland and India, as well as US cities including Boston, Chicago and New York, free school meals are available to all pupils throughout their education.
Take Action
Support our campaign
Your donation will help us champion children's rights, parent power and government action to improve the food environment children grow up in.