Free bread making kits for schools
Past Real Bread Campaign ambassador launches Kitty's Kits.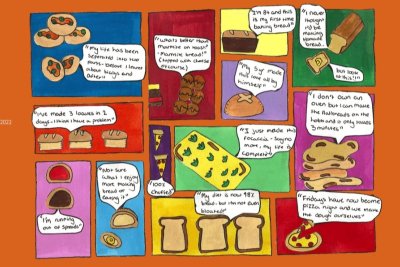 Breaducation, that's what you knead. Copyright: Kitty's Kits
Kitty and Al Tait, owners of The Orange Bakery in Oxfordshire and authors of the book Breadsong, are running free workshops to schools to teach kids how to make Real Bread.
Kitty said: "After the book came out, we got so many pictures and messages from people who had never baked bread before. This got me SO EXCITED! I wanted to try and encourage more people to give it a go, so I made 200 bread kits with just flour, yeast and salt in and sent them out for free to anyone who wanted one."
Breaducation
Following the success of this pilot scheme, Kitty and Al launched their Breaducation initiative. Echoing the Lessons in Loaf scheme launched by the Real Bread Campaign in 2010, Breaducation involves guiding teachers to make a four-ingredient, no-knead recipe, and tailoring bread making sessions to be suitable for each of their schools. Each child will then get a Kitty's Kit to make up the dough ahead of their bread making.
Al, a former teacher, notes: "Learning how to make bread covers a huge range of curriculum goals, from design technology to science, taking in maths, geography, history and PSHE on the way. More than anything, it's great fun."
Get kitted out
The workshops and kits are available to schools in Oxfordshire, with plans to extend this further afield. The website includes a range of simple recipes to help kids keep baking Real Bread from scratch.
Kitty's Kits are also available to buy at The Orange Bakery, with each sale funding a free kit for a school.
Teachers interested in Kitty's Kits and Breaducation can find contact details at www.kittyskits.co.uk
See also
Support our charity
Your donation will help support the spread of baking skills and access to real bread.