Community bakery takes centre stage
Homebaked The Musical premiers at Liverpool's Royal Court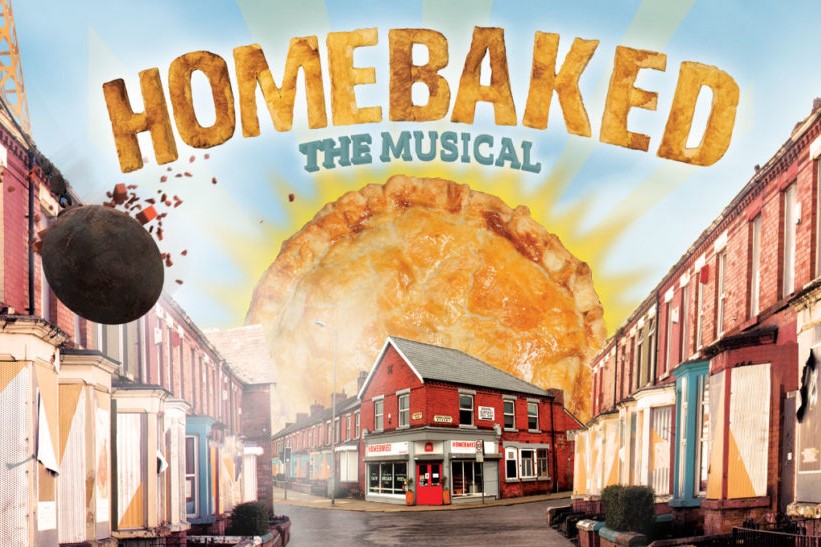 Image © Red Ladder Theatre Company / Liverpool Royal Court
In a pun-filled billing, this "story of hard work, hope and pies (mainly pies to be honest)" is of people taking back control of their neighbourhood's future. At its heart is a local bakery close to Liverpool's Anfield Stadium.
From half-baked to Homebaked
In January 2011, the Mitchell family turned off the ovens of the bakery from which they had been serving their local community since 1965, as a family before them had done since it was purpose-built in 1903.
Back in 2002, the entire neighborhood had been identified as a 'market failure' and scheduled for demolition under the government-backed Housing Market Renewal Initiative (HMRI). With homes and businesses all around them being 'tinned up' with security shutters, the Mitchells watched their customers dwindle but, with the demolition order in place, were unable to sell. Any hope of being compulsorily purchased vanished in 2010, when the coalition government axed the HMRI.
Dust gathered until 2012, when artist Jeanne van Heeswijk rented the bakery from the Mitchells as her 2up2down collective's base for the Liverpool Biennial of Contemporary Art. Named after the typical layout of terraced houses, the project's aim was to bring people in Anfield together to have an active role in what was to become of their neighbourhood.
Seeing the lights back on, people started popping in to ask for bread. 'Why not?' seems to have been the attitude and the team brought in a baker to run Real Bread making classes for local people. The project evolved into Homebaked, comprising a Community Land Trust that leased the building from the Mitchell family and a co-operative to re-establish it as a Community Supported Bakery.
Dough, rey, mi
Now Liverpool's Royal Court have teamed up with Red Ladder Theatre Company to produce a musical inspired by the Homebaked story.
Angela McKay, who manages the bakery, told BBC News "The musical's about people coming together, people being resilient, people being proud of who they are." Some of the musical's characters echo Angela and other members of the Homebaked community. While making clear that the production is "not going to be a documentary" its writer, Boff Whalley (AKA the guitarist for Chumbawamba), said that "some of them are based really closely on real people."
Homebaked The Musical runs until 23 October 2021.
Support our charity
Your donation will help support the spread of baking skills and access to real bread.