Consumer champions and MPs call on government to save UK food standards in trade deals
Consumer organisation and Sustain alliance member Which? has written to the government today calling for it to clarify its commitment to protecting UK food standards in light of future trade deals.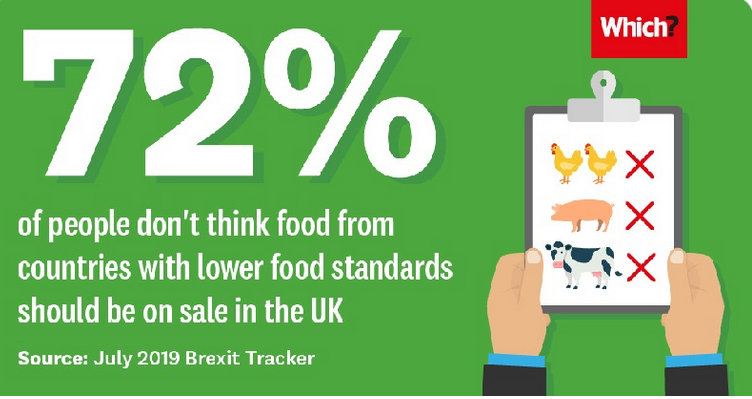 The letter was co-signed by a group of 56 Conservative, Labour, Scottish National Party, Democratic Unionist Party, Liberal Democrat, and Green politicians and sent to both Trade Secretary Liz Truss and Environment Secretary George Eustice.
The letter comes ahead of next week's Trade Bill second reading in the House of Lords and the report stage of the Agriculture Bill, which follows later in the month. The Government has so far rejected amendments that would give legal protection to food standards in both the trade and agriculture bills currently being considered by parliament.
The letter references Which? research showing that 9 in 10 (95%) believe it is important for the UK to maintain existing food standards.
The letter says:
"The UK has a world leading food standards system and these standards are of great importance to the British public, who have been emphatically clear about their desire for the UK's high food standards, including animal welfare and food safety to be protected in all trade negotiations."
In a blow to those arguing that high food standards are veiled protectionism and should be lowered to bring down the price of food for low-income households, Which? says:
"Those in lower socioeconomic households were less likely than those in higher socioeconomic households to think lower standard food should be available in the UK, for both groups support for such a change was low – 11% and 16%."
The letter also points out that consumers would have no choice about eating low standard produce as much of the food eaten out of home is not labelled. It goes on to argue that any pre-existing legislation could be changed using little-scrutinised secondary legislation, which is why new legal commitments on chlorine-washed chicken and hormone-reared beef, for example, are needed.
You can read the letter from Which? to Liz Truss in full here.
---
02/09/2020
Brexit
SHARE
---
Brexit: We stand at a cross-roads. When the UK leaves the European Union, will our leaders uphold good standards for our food, farming, fishing and trade deals? And will they agree a sensible deal with the EU? We need to make sure that they do!