More than 60 organisations sign letter calling on retailers to take action.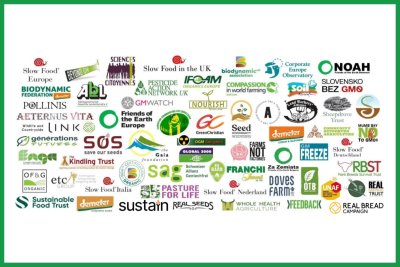 Signatory organisations and companies. Credit:
Sustain alliance members Beyond GM and Slow Food in the UK have written to UK and EU supermarket businesses, urging them to take action against recent developments that could lead to a deregulation of genetically modified food.
The letter (sent to companies including Aldi, Asda, Co-op, Lidl, M&S, Sainsbury's and Tesco) calls on businesses to:
join the existing coalition of European retailers advocating for the continued regulation and labeling of all GM food under existing GMO regulations.
refrain from giving any explicit or tacit support for government plans to remove labeling and traceability and therefore hide GMOs in the food supply chain.
re-affirm and update existing GM policies in relation to own brands so that they explicitly prohibit gene edited products, in light of consumer attitudes.
The letter's 64 signatories, representing leaders from food, farming, religion, philanthropy, business and academia, include Sustain and its Real Bread Campaign.
Honesty and transparency
Market research throughout Europe indicates that the majority of people are skeptical towards old and new genetically modified organisms (GMOs). An Ipsos opinion poll conducted in early 2021 across 27 EU countries shows that the vast majority (86%) of Europeans who have heard of genetically modified crops want food produced from these plants to be labeled as such. It also shows that the majority (68%) of respondents who have heard of new GM techniques, such as CRISPR, want food produced with these techniques to also be labeled as GM.
Pat Thomas, Director of Beyond GM, an organisation dedicated to amplifying citizen voices in the GMO debate said: "Gene editing is simply genetic modification by another name and citizens in the UK and Europe have repeatedly made it clear they want GMOs regulated and labelled. Robust and coherent regulation helps guide and protect businesses and demonstrates respect for customers' values and preferences."
This was echoed by Shane Holland, Executive Chairman of Slow Food in the UK: "Any proposed deregulation must be accompanied by mandatory and prominent labeling so that consumers and businesses alike can trust the food on our shelves."
Proposed changes
The European Commission (EC) has stated that "current 2001 GMO legislation is not fit for purpose for some NGTs" (New Genomic Technologies) and should be reviewed for GM plants engineered with so-called new genomic techniques, like gene editing. The EC aims to propose new legislation for certain new GM techniques before the summer of 2023.
The UK government has already introduced a new bill that would exclude both gene-edited plants and animals from existing GMO regulations. The bill creates a false distinction between what it calls "precision bred organisms" (PBOs) and other types of GMOs.
Freedom of choice
If the planned deregulation goes ahead, existing requirements for GMO risk assessment, traceability and labeling could be abandoned for a wide range of GMOs. This could result in breeders, farmers, food and feed processors, retailers and consumers not knowing where GM plants and animals (and their products) are in the food system. Ultimately, it would have a serious negative impact on shoppers' freedom of choice.
Questions of safety
The techniques used to create GMOs have been shown to be imprecise and to lead to genetic changes that could compromise food and environmental safety. A 2018 European Court of Justice ruling states that "the risks linked to the use of those new techniques […] might prove to be similar to those which result from the production and release of a GMO", concluding that these techniques are subject to the same safety assessments as GMOs.
#newGMOs #GMOs #GM #NotInMySupermarket #IChooseGMOFree
See also
Support our charity
Donate to enhance the health and welfare of people, animals and the planet.