Land workers tell government: Save Our Standards
On 31st October, the Land Workers Alliance will be creating a GIANT message with 1,000 pumpkins in central London to demand ministers Save Our Standards.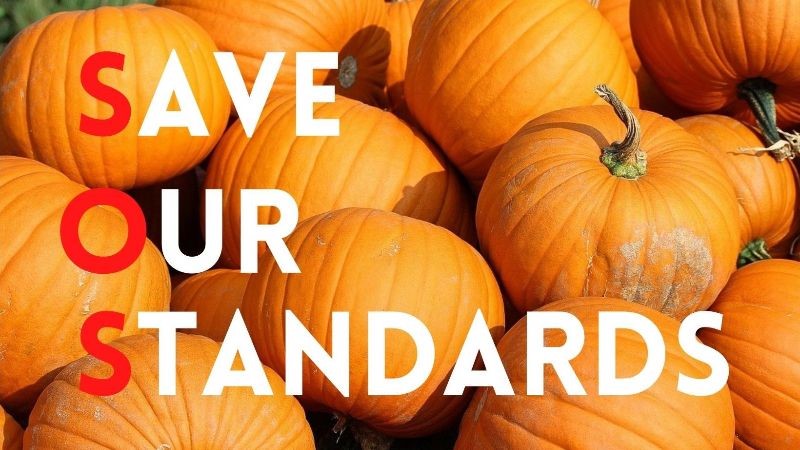 The Landworkers' Alliance (LWA, a member of Sustain) is part of a broad coalition of farmers unions, consumers, youth, chefs and environmental organisations that want our food standards protected. This has been a landmark issue bringing together people across the political spectrum, yet despite widespread support, the House of Commons voted out an amendment placed into the Agriculture Bill by the House of Lords that would have prevented products produced to low standards from being imported into the UK.
On November 4th, the Agriculture Bill makes its way back to the Commons for final stages in Parliament. The House of Lords has returned this improved amendment to the House of Commons once more for a vote that would enshrine in law a duty for the Government to seek equivalence on agri-food standards in future trade deals.
The new number for the slightly revised amendment is 16B. If enacted, this would mean that by law we would not be able to import food produced to lower animal welfare standards, food products with pesticides that aren't allowed in the UK, meats produced with hormones illegal in UK farming, questionable additives like ractopamine in pork, and chickens produced in systems so dirty that they need to be washed in chemicals such as chlorine.
The LWA argues that the UK could and should take a leadership role in creating fairer and better trade based on high standards. By upholding those standards, the UK could continue to improve on them as we try to tackle issues like climate breakdown, biodiversity loss and societal inequality.
To get involved in the action, email: humphreylandworkersalliance@gmail.com
Or why not carve your own pumpkin with SOS (for Save Our Standards), and share it on social media using the hashtag #SaveOurStandards. Tag the LWA on Facebook (@Landworkersalliance), on Twitter (@LandworkersUK) and Instagram (@landworkersalliance). Email or tweet your MP with the image and ask them to vote for Amendment 16B.
---
29/10/2020
Food and Farming Policy
SHARE
---
Food and Farming Policy: Sustain encourages integration of sustainable food and farming into local, regional and national government policies.