Nature Friendly farmers need support - new report
Nature Friendly Farming Network (NFFN) have launched their latest report "Farming For Our Future: The Nature Friendly Climate Change Solution We Urgently Need"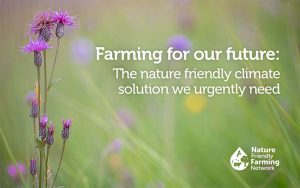 Through survey results and in-depth interviews with farmers it shows that farmers across the UK see an urgent need for support to respond to the climate emergency and transition to a sustainable farming system, to deliver on long-term food security and protect biodiversity and the environment.
The report, together with the NFFN practical guide to help achieve net-zero carbon targets shows the potential for a sustainable farming system in the UK.
Support for farmers deivering nature outcomes is a key demand for Sustain's farming campaign.
---
30/10/2019
Food and Farming Policy
SHARE
---
Food and Farming Policy: Sustain encourages integration of sustainable food and farming into local, regional and national government policies.