Chief Medical Officer report calls for fundamental change to unhealthy food environments for children
Professor Dame Sally Davies, who recently stepped down as Chief Medical Officer, has issued her final report Time to Solve Childhood Obesity, calling on Government to take further action in recognition of children's rights to nutritious food, and to grow up in a healthy environment. Children's Food Campaign responds.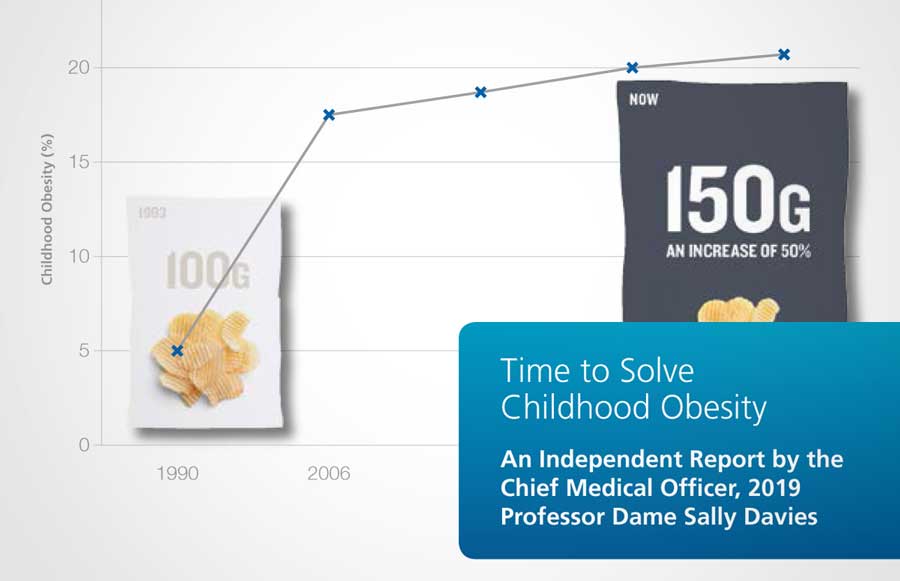 Ben Reynolds, Deputy Chief Executive of food and farming alliance Sustain, commented on the new report:
"We welcome this report, which couldn't come at a better moment when progress on the Government's Child Obesity Plan seems to have stalled, with proposed restrictions on junk food promotions and advertising of similar products before 9pm getting lost along the way.
But this report goes further than just regurgitating old suggestions. It proposes that we rethink how we tackle this issue, to think as much about the environment that kids grow up in, as the personal responsibility we should all take. Moreover it makes a very good case for children's right to food, and the necessary actions that stem from that, such as increasing the value of free school meals and uptake of Healthy Start vouchers which would help those who struggle the most to afford a healthy diet."
Barbara Crowther, coordinator of Sustain's Children's Food Campaign, added:
"We welcome the CMO's focus on creating a level playing field in terms of regulation on advertising, marketing and labelling, given the very slow pace of voluntary reformulation, whilst companies find ever more sophisticated methods of getting their brands and products directly in front of children. Following the public backlash this last week over KP's branding googley with the England and Wales Cricket Board, the Chief Medical Officer's call to break the tie between sports sponsorship and unhealthy products is particularly timely.
"The recommendation to phase out marketing, advertising and sponsorship in public sector owned advertising and events would have the support from many local areas around the country. We've seen communities across the UK inspired to follow the Mayor of London's leadership in restricting junk food adverts on Transport for London, and using public sites for healthier campaigns. We hope Government at very least now encourage the voluntary rollout of these restrictions across all parts of the public sector."
---
On specific issues:
On schools & nurseries
"Children spend 190 days of the year in school; we cannot underestimate their value and importance in supporting a happy, healthy childhood. We welcome the CMO's alert that School Food Standards are neither mandatory on a universal basis in all schools and nurseries, nor are they independently monitored. This is something parents, teachers and governors alike have called for and we hope the Secretary of State for Education and OFSTED will sit up and take note that the CMO's report clearly says they must do better."
On tap water
"The need to make good food and drink more affordable, accessible and better advertised than unhealthy options runs through all these proposals – none more so on the proposal for water only schools and the CMOs support for our calls for a new wave of drinking fountains across the country. We've seen much appetite for our 50 fountains challenge, which we hope would lead to tens of thousands of new fountains around the country."
On business
"It also sends a clear message to businesses. In amongst the current chaos, businesses need certainty, and what this does is to propose a level playing field through regulation, so leaders aren't left stranded by voluntary efforts that rarely work. Businesses will no doubt echo the need for any future trade deals not to undermine that progress that is being made in the UK, and the risks of being undercut by lower standard imports. We hope that Matt Hancock and Government take note, and action, on this set of proposals that they themselves commissioned."
Reform of VAT
"The Soft Drinks Industry Levy is already demonstrating the power of fiscal measures to incentivise a shift to healthier products and change consumer behaviour. The suggestion for considering reform of VAT along health lines is welcome, rather than through some arbitrary distinction between products. We would suggest that any review of VAT on food and drink goes further and considers the impact on the environment and nature, as we try not only to tackle child obesity but to avert the climate emergency, with food and farming casting a large shadow on both."
---
For more information:
Contact Ben Reynolds ben@sustainweb.org or Barbara Crowther barbara@sustainweb.org or by calling 020 3559 6777
Read the full Chief Medical Officer's report Time to Solve Childhood Obesity on the Department of Health and Social Care website
---
10/10/2019
Children's Food Campaign
SHARE
---
Children's Food Campaign: Better food and food teaching for children in schools, and protection of children from junk food marketing are the aims of Sustain's high-profile Children's Food Campaign. We also want clear food labelling that can be understood by everyone, including children.