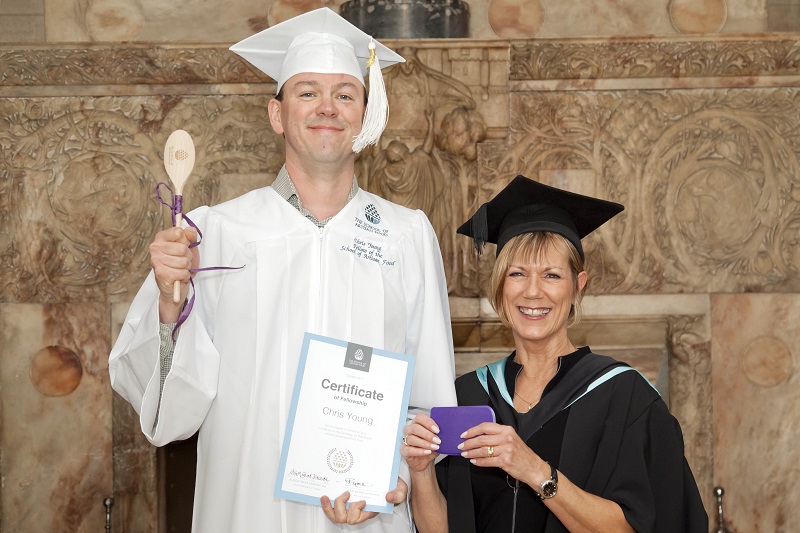 Photo courtesy of the School of Artisan Food
Chris said: "I'm surprised, honoured, chuffed and taking this one for team Real Bread. I look forward to welcoming far more deserving fellow Fellows to keep me company."
Julie Byrne, the School's Managing Director said: "We are delighted to present Chris Young with our first Fellowship. What a fantastic way to commend his invaluable and continued support of the School and the positive impact he has had on the real bread community."
The School's founder, Alison Swan-Parente, added: "The work that Chris does as part of the Real Bread Campaign is incredibly important in educating and raising the profile of good bread. He is truly remarkable and we are very excited to welcome him as our inaugural Fellow."
Dough diploma
Based on the Welbeck Estate in Nottinghamshire, the School is a registered charity committed to promoting good food, good health, local employment, a sustainable environment and a safe supply chain. It works with schools, voluntary organisations, community groups and social enterprises to provide skills training, information, volunteer opportunities and advice. There is particular focus on Real Bread making, cheesemaking, brewing, butchery, charcuterie and preserving.
The School's core charitable purpose is to raise funds to create bursaries for diploma students to make the one-year baking and entrepreneurship course available to people who would otherwise not be able to afford the training. This is done through a number of means including grant funding and charging full fees on short courses.
Having learned both business and artisan baking skills, many enterprising diploma course alumni have gone on to found their own bakeries at the hearts of their local communities. They include Lindsay Starck's Modern Baker in Oxford, Clare Barton's Bakehouse at 124 in Tonbridge, Russell Goodwin's Companio Bakery in Manchester, Ian Waterland's Knead Good Bread in Leicester, Rebecca Bishop's Two Magpies in Southwold, Matina Mitchell and Laura Bullock's Seven Hills Bakery and Martha Brown's Forge Bakehouse, both in Sheffield, Shynara Bakisheva's Fresh Artisan Bread Company in Newcastle, and Helen Lockett's bakery108 in Bristol.
Companions
The Campaign was instigated by inspirational Real Bread champion and long-time Sustain friend Andrew Whitley, who has also worked with the School on many occasions. Chris has worked for the charity Sustain coordinating the Campaign since 2009, the year that the School was founded, and has helped to build a strong relationship between the two organisations. The School has been a supporter of the Campaign since its foundation and became a member of the Sustain alliance in 2014. The following year, the alliance elected Alison Swan-Parente to the Sustain council as a trustee.
The School was the location of the photoshoot for the Campaign's recipe book, Slow Dough: Real Bread, with the head of baking Wayne Caddy setting diploma students the task of testing and refining more than seventy recipes ready for the camera (and the book's readers) as a class project.