Wildlife and Countryside Link's Agriculture Working Group, working with the Soil Association and Sustain have set out our ideas for a Sustainable Farming and Land Management policy in England, with a short briefing summarising the contents of a more detailed discussion paper.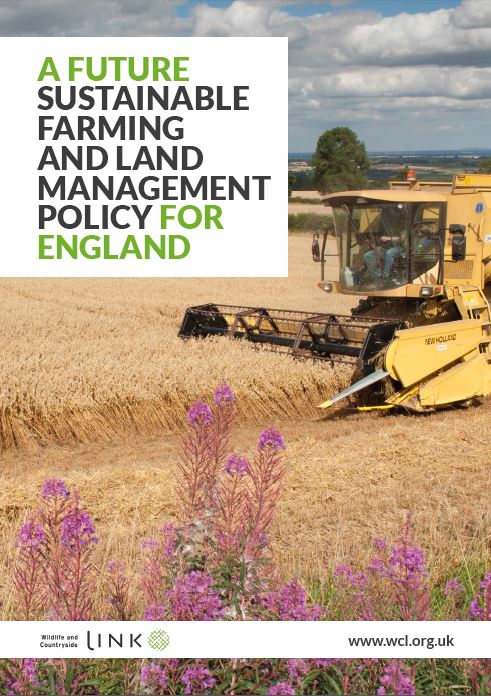 With our departure from the European Union (EU) imminent, and with it the Common Agricultural Policy (CAP), we have a clear opportunity to develop an agriculture policy that really drives environmental improvements across the countryside. In the days before the referendum, this statement would have led to brickbats from some in the farming community. It may still. But Brexit has changed everything.
Rather than being antagonists, arguing over how to spend the CAP-cake, farmers and environmentalists now have more common cause, given that we are both proponents of continued public investment in farming and land management. Our contention today is that basing this expenditure on the provision of environmental benefits, that farmers and land managers are uniquely placed to provide, is the best – and perhaps only – option for a long-term and stable policy settlement for the sector.
And it's not just us who are saying this. The Secretary of State has called Brexit an 'unfrozen moment', and identified a "…growing appetite for a new system of agricultural support which puts environmental protection and enhancement first." The Country Land and Business Association (CLA) have called for a Land Management Contract to form the central plank of a future policy, clearly seeing where the political winds are blowing. And yesterday, the Natural Capital Committee added their voice to the growing consensus that, if public money is to continue to flow into agriculture, then it should be in return for clear and demonstrable public benefits.
Brexit presents real risks for both farming and the environment. To mitigate these risks, and realise the opportunities, we need a proactive policy response from Government, and we will need consensus to achieve this. The environmental case for continued investment provides this consensus, and we want to work with farmers, land managers and anyone else who's willing to make this case.
This paper and briefing are a constructive, pragmatic and ambitious contribution to the debate. As we look forward to an Agriculture Bill next year, this work will form the basis of future conversations with farmers and land managers, Government and other stakeholders, as we seek to ensure that the Bill, and policies that flow from it, secures a bright future for both farming and the environment.
Tom Lancaster
Senior Land Use Policy Officer
RSPB
Follow @tommlancaster and @Natures_Voice
Support our campaign
Your donation will help us work with farmers to push for policies to support farming fit for our future.