50 fountains challenge launched to combat plastic pollution
In response to plastic pollution caused by single-use bottles, City to Sea and Sustain have partnered to launch the 50 Fountains Challenge, which calls on local authorities to have at least 50 public drinking fountains available in their areas.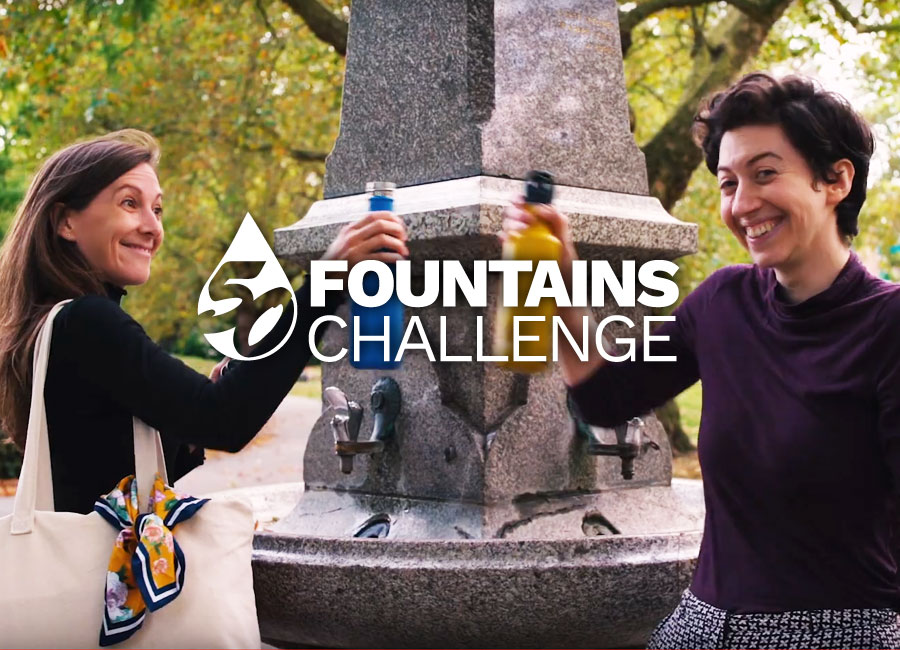 The challenge aims to install a network of publicly accessible drinking fountains and map them on the app, to make it easy for citizens to find and reach a refill station. Open to local authorities, food partnerships, community groups and others looking to oversee the following in their local area the challenge is to:
Publicly commit to the target of 50 working drinking fountains (with an interim 3-year target)
Map their existing public drinking fountains on the Refill app, and
Install new public drinking fountains to reach the target.
There are 400+ local authorities across the UK—if they all committed to having 50 public fountains, it would mean 20,000 throughout the UK.
The project is backed by Hugh Fearnley-Whittingstall, Melissa Helmsley and environmental and health groups like the British Dietetic Association and British Dental Association. Helmsley, founder of the Sustainability Sessions, says that
'the most important change one can make to reduce plastic is to use a refillable bottle - but drinking water needs to be easily accessible for that to happen.'
Ben Reynolds, Deputy Chief Executive of Sustain, comments, "Convenience has led to the rise of plastic bottles, so we must ensure that the healthy, environmentally friendly options are more accessible, affordable and attractive than the alternatives," noting that
"fountains offer a relatively cheap solution compared to the costs to our NHS of diet related disease and the clean-up costs of plastic pollution which burden the taxpayer and wreck the environment."
More fountains would not only be better for the environment - they also have the potential to reduce the amount of sugary drinks consumed in the UK by making water the most accessible and affordable choice, as opposed to soda or juices that are high in sugar. Today, children are consuming 3x the amount of recommended sugar, with almost a quarter of teenagers' sugar intake coming from drinks. Switching from bottled drinks to water would reduce this intake and be a huge benefit to public health.
Leading water fountain supplier MIW have donated two state-of-the-art-fountains which will be awarded to two schemes who sign up to the challenge the first 3 months, judged based on the impact that a fountain would have in that area. The challenge is the brainchild of the charity behind the Jellied Eel (Sustain) and City to Sea, creators of the award-winning Refill app.
---
To find out more head over to Refills website
---