Real Bread Campaign calls for Tesco labelling commitment
Retailer urged not to throw baby out with the bathwater.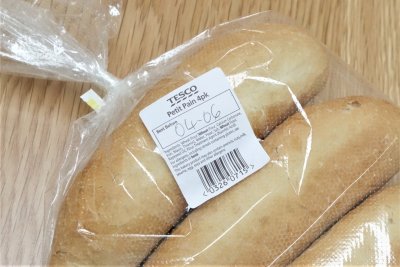 Will this info be displayed on shelf lables?. Credit: Chris Young / www.realbreadcampaign.org CC-BY-SA-4.0
The UK's most profitable retailer has announced that it is committing to removing or replacing some of the packaging it uses for its bakery section loaves, doughnuts and breakfast pastries.
Real Bread Campaign co-ordinator Chris Young said: "We welcome any manufacturer or retailer finding more sustainable alternatives to single-use plastic and reducing the total amount of packaging it uses for bread or industrial loaf products."
At the same time, the Campaign expressed concern that the retailer might use the move as an opportunity to stop making essential product information readily available to shoppers.
What's in store?
Full lists of ingredients, and most additives, have to appear on food packaging but retailers only have to make an allergen declaration for food that is sold unpackaged.
Young said: "We're worried that Tesco will now choose not to display this important information on shelf labels, denying shoppers the chance to read it instantly." He added: "If, like me, you've ever stood by a supermarket baked products section without access the company's website, or have asked for an ingredients list somewhere like a train station sandwich counter, you'll know how unnecessarily hard it can be to find out."
Reports about the packaging announcement quoted Tesco group quality director, Sarah Bradbury. On 31 October 2022, the Campaign wrote to Bradbury, asking for confirmation that the company would voluntarily commit to displaying full ingredient lists for unwrapped baked products at point-of-sale. The Campaign followed up this query on 3 November, copying in the company's customer relations department.
Hard to find facts
As part of its Honest Crust Act work since 2009, the Real Bread Campaign has lobbied for mandatory full ingredient labelling of all bread, industrial loaf products, wraps, sandwiches etc. and repeatedly called on all bakers and retailers to adopt the proposals voluntarily in the meantime.
UK law has long required that manufacturers have to print full ingredients lists (though not so-called processing aids) on the packaging of wrapped/packaged foods, such as factory loaves. Listing the so-called fortificants added to most flour sold in the UK was resisted by government and industry until EU regulations made it a legal requirement in December 2014.
Similarly, the Campaign's long-standing calls for full ingredient labelling of food pre-packed for direct sale (PPDS) were consistently rejected. Examples of PPDS food include sandwiches and bakery section products that are put into sealed/closed packaging by the retailer before being put on display. The situation only changed following campaigning by the parents of Natasha Ednan-Laperouse, after her tragic death from an allergic reaction to undeclared sesame in a PPDS baguette. This resulted in full ingredient listing being made mandatory for PPDS food in October 2021.
The Campaign still calls for mandatory, full ingredient listing (on packaging or point of sale display) of bread etc. that is sold unwrapped, and mandatory listing of 'processing aids' for all products in which they are used. The government declined to include these – or any of the Campaign's other proposals – in the current review of the Bread and Flour Regulations.
See also
Updates
7 December 2022: We followed up our 21 November email for a reply.
21 November 2022: Tesco's Head of Campaigns, Waste and Circularity (Plastic, packaging and food waste) replied: "For products that have a form of packaging, such as a sleeve, bag or film, Tesco provide a full ingredients list with the allergens highlighted in bold. For products with no packaging, Tesco fulfil our legal obligations by listing the allergens clearly on the shelf edge label." We responded by asking why Tesco will not make the customer-focussed voluntarily commitment to displaying full ingredients lists on that shelf labelling.
17 November 2022: We tweeted @tesco again, asking for a reply.
16 November 2022: We tweeted @tesco, again asking for confirmation of their customer services email address.
14 November 2022: We re-sent our 31 October email to Sarah Bradbury and the Tesco customer services team. We received what appeared to be an auto-response, saying that the email account for customer.service@tesco.co.uk is not monitored. We replied that this seemed odd as it is the address listed on the Tesco PLC website, the response was not sent automatically but two hours after we emailed, and we had not received the 'auto response' when we emailed that account on 3 November. An hour later, we received the same 'auto response'.
We also tweeted @tesco ('Welcome to the official Tesco Twitter! Got a query? We're here to help from 6am-11pm'), asking for confirmation of their customer services email address.
Support our charity
Your donation will help support the spread of baking skills and access to real bread.