Eat Them to Defeat Them returns for 2021
The programme from Veg Power and ITV which uses advertising and a school programme to get kids to eat more vegetables returns in February 2021.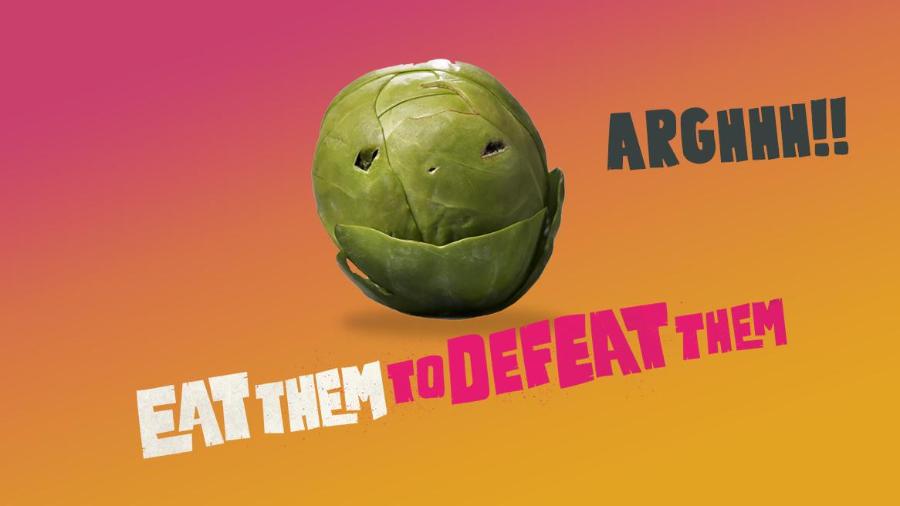 Veg Power was founded in 2018 to turn around vegetable consumption in the UK. 80% of our children are not eating enough vegetables, with a third eating less than one portion a day. Perhaps the most alarming statistic is that 50% of parents say they have given up even trying. Veg Power's mission is to inspire kids to veggie loving habits they will share with their parents today and their own children tomorrow.
In 2018 Veg Power formed a key partnership with ITV and together created the Eat Them to Defeat Them campaign which first ran in 2019 making veg fun for kids. In 2020 ITV and Veg Power were joined by Channel 4 & Sky, taking our TV ad to 46m people.
Schools programme
The 2020 schools programme reached 1,500 primary schools and 425,000 kids.
Over half of all parents and kids agreed Eat Them to Defeat Them makes eating vegetables more fun, rising to three quarters for those in schools activating the campaign. 50% of children in these schools said they'd eaten more vegetables, and their parents and schools agreed.
81% of schools staff said it was more popular than other healthy-eating initiatives
92% said they want it back in 2021
Detailed analysis of retail sales data concludes that the campaign has directly generated an additional £63m in vegetable sales, in grocery stores in 18 months; equivalent to 517m extra children's portions. A pilot study in two schools showed a 25% reduction in food waste as the kids ate more of their vegetables
Check the short video and detailed reports on the 2019 & 2020 campaigns.
Eat Them to Defeat Them 2021 campaign
The campaign returns this coming February. It will be led by a £3m TV campaign from ITV, Channel 4 and Sky Media. After listening carefully to feedback from schools and caterers, Veg Power is simplifying the programme for 2021, introducing nothing new, improving just the best elements as well as engaging with more school caterers to take on the work. The goal is to be in 1,750 schools, reaching 500,000 kids.
Each week will feature a rally cry around one of Britain's family favourite vegetables. Veg Power will ask school caterers to lay out tasty sample dishes of each weeks' veg. There are stickers to reward the kids who give them a try, and back home the kids will have a reward chart to encourage them to repeat and normalise eating that veg.
22 Feb – Carrots
1 March – Peas
8 March – Sweetcorn
15 march – Broccoli
22 March – Tomatoes
29 March – Peppers
It is policy to never charge state schools, whether they be state-funded, academy or special schools. Instead Veg Power look to local authorities, local vegetable businesses and school caterers to come together to fund schools in the communities they serve. In 2020 this model raised over £100,000, which was enough to fund 1,000 schools.
If you are a primary school, a school which caters for kids with special educational needs or a community group running healthy eating programmes or holiday activities and you would like to take part, please contact Stephanie Douglas at hello@vegpower.org.uk to register your interest. Veg Power will find the funding for you.
Support our charity
Your donation will help communities across the UK to increase the availability and consumption of vegetables.