M&S sourfaux allergen labelling fail?
Real Bread Campaign raises concerns over French-only ingredients and allergen labelling.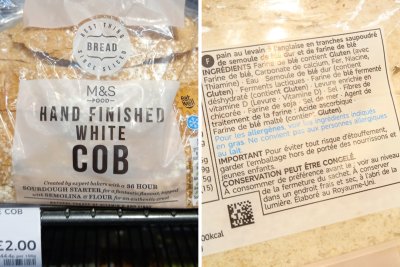 Ce n'est pas que du sourfaux, c'est du M&S sourfaux. Credit: Chris Young / www.realbreadcampaign.org CC-BY-SA-4.0
M&S markets its 'Hand Finished White Cob' with these claims, displayed prominently on the pack front: 'Created by Expert Bakers with a 36 Hour Sourdough Starter for a fantastic flavour, topped with Semolina & Flour for an authentic crust.'
It has come to the Real Bread Campaign's attention that the ingredients list on the reverse of some packs is in French only. Nowhere on the label of these products does the ingredients appear in English, as required by Article 15 of Regulation (EU) No 1169/2011 on the provision of food information to consumers, as amended by The Food (Amendment) (EU Exit) Regulations 2019.
This barrier to accessibility of mandatory information is potentially dangerous to the majority of M&S UK customers with wheat, soya and milk allergies, as the company only gives the warnings in French.
The absence of the ingredients list in English is also concerning as it prevents shoppers in the UK from seeing easily that the product is what the Campaign calls sourfaux - ie marketed using the word sourdough but made using baker's yeast and/or additives, resulting in a fundamentally different product.
On 3 May 2023, the Real Bread Campaign emailed M&S customer services to ask the company what action it will be taking and when to ensure that all packs include ingredient labelling in English, and to remove the word sourdough from the pack front.
Updates
4 May 2023: A customer service representative of the M&S Executive Team replied to our email saying: 'The packaging information and the ingredients are listed in both English and French, with English appearing higher on the label on the reverse.' We have seen ingredient labelling in English in one store. Three people, however, have reported seeing ingredients listed only in French on this product.
Support our charity
Your donation will help support the spread of baking skills and access to real bread.