Subsidising fruit and veg could help us all be healthier
New research suggests that subsidising fruit and vegetables could be the way forward for healthier diets.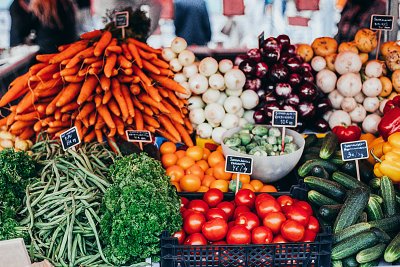 Fresh vegetables on a market stall. Credit: Daria Shevtsova | Pexels
A new paper published by researchers at Warwick University have shown that a subsidy on fruit and vegetables would not only help reduce the cost of our food shopping, but would be a huge win for public health.
High prices are pushing people to eat 15% less fruit and vegetables than they otherwise would. This accounts, on average, for one third of the gap between what people are recommended to eat and what they are actually eating.
Prices for healthy food and drinks, and in particular for fruit and veg, have been increasing relative to the price of unhealthy food and drinks for decades. In the UK, taking the inflation rate into account, prices for fresh fruit have increased 29% more than average food prices since 1980, and for vegetables the figure is a whopping 49%.
The researchers propose that, rather than taxing unhealthy foods, we should be subsidising fruit and vegetables. A subsidy of 25% would be enough to stop the price putting people off eating their greens. Their findings suggest that the subsidy would cost the taxpayer roughly £2.5bn each year, compared to the £6bn a year spent on obesity-related illness.
The authors of the report say: "Our findings have obvious and clear policy implications. The [research shows] that there really is no reason to not subsidize fruits and vegetables. Such a subsidy will make society as a whole better off, and by financing the subsidy appropriately (progressively), the policy maker can ensure that these gains are distributed in a fair manner across households of different income levels."
Bella Driessen, Local Action Officer for the Veg Cities Campaign says: "People have the right to food, and to live a healthy life. In the cost of living crisis, it's more important than ever that measures are put in place to make sure people can access healthy food. It's great to see policy proposals that aren't about punishing people for eating certain types of food, but instead would make healthy food more accessible to everyone."
Support our charity
Your donation will help communities across the UK to increase the availability and consumption of vegetables.