Almost 30 food brands, foundations and investors have written to the Prime Minister, accusing him of undermining innovation in healthier food products, after the government's U-turn on restricting junk food marketing.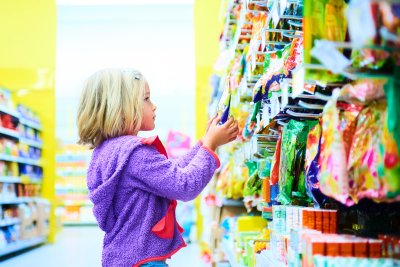 Girl buying sweets. Credit: Petr Bonek / Shutterstock
The letter states that
"By delaying and potentially scrapping the originally ambitious and evidence-based plans to improve the health of the food industry, you [the Prime Minister] are allowing unhealthy brands to profit and flourish and worsening the obesity crisis."
It goes on to warn the Prime Minister that the delay in implementing the restrictions will
"enable big food and drink to continue swamping the public with unhealthy options, rather than setting the stage for healthier products and brands"
The letter, which refers to the Prime Minister's obesity plans as 'world leading', goes on to say that with the plans to introduce restrictions on TV and online junk food ads and multibuys
"You have an opportunity to level the playing field, put healthier foods in the spotlight, and provide an incentive for more brands to innovate."
A short version of the letter, which was supported by Impact on Urban Health and Mission Venture, was printed in the Times (£) and has also been covered by the Grocer. (£) But you can read the letter in full here
The news comes as Cancer Research UK has warned that over 21 million UK adults will be obese by 2040.
The UK Government has confirmed it intends to delay two key laws restricting junk food marketing (junk food ads on TV and online and restricting multibuy promotions). Sustain and the Children's Food Campaign, alongside many other health organisations, politicians including William Hague MP and former health ministers, are calling on the Government to reconsider the delay.
Support our campaign
Your donation will help us champion children's rights, parent power and government action to improve the food environment children grow up in.