Finding new ways to grow more food and swap plants during Covid-19
Instead of the scheduled plant swap, Peebles CAN Community Garden hosted a walking plant swap over one weekend to help keen gardeners continue to grow fruit and vegetables and to encourage active travel.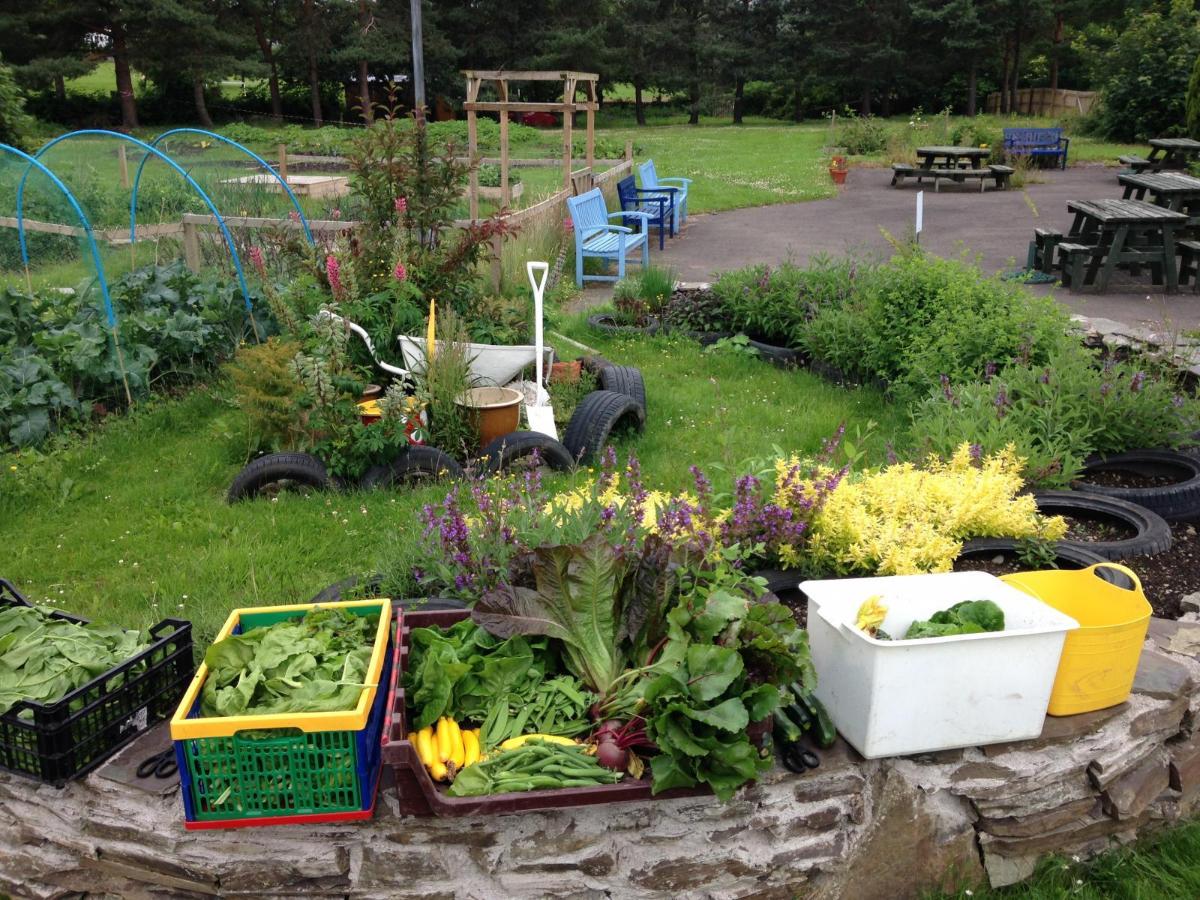 Herb garden and harvest. Credit: Peebles CAN
Peebles CAN Community Garden is situated in the town of Peebles in the Scottish Borders area. The garden has multiple growing areas, polytunnels, a range of vegetable beds and fruits bushes, and a herb garden. Normally Spring would be the busiest time of the year and the garden would be hosting skill swapping events on Fridays and Saturdays open to all members of the public as well as hosting members and volunteers. Since the coronavirus outbreak and social distancing measures have been put in place, the garden closed to the public and stopped volunteering sessions but remains open to members who have been issued with Coronavirus guidelines. Among other measures such as strict cleaning procedures, the garden started operating a Doodlepoll online appointment system to control the number of members of site to a maximum of two at a time while ensuing jobs continue to be done. Inside the polytunnels, only one person at a time is allowed.
A Spring seed and plant swap would normally be in calendar of activities and this year. After careful reflection, Peebles CAN decided to keep the event during the weekend 2-3 May with a few radical alterations to ensure safety. Instead of doing the swap in the community garden, participants post information about what plants they have to swap on the Peebles CAN facebook page and their location and leave the plants outside for people to collect to minimise social contact. Vendors and participants are advised to follow coronavirus guidelines for the event. For vendors, measures include: wearing gloves for handling the display, preparing and leaving plant pots untouched for a minimum of 12 hours before the plant swap and not offering any other amenities, food or drink. For participants the measures include: using their own hand sanitiser, using gloves, not touching door bells or gates and quarantine the plants for at least 12 hours at home before handling them.
Peebles CAN have recently secured a share of funding by the Climate Challenge Fund, administered by Keep Scotland Beautiful (a charity funded by Scottish Government) to run the project entitled 'The Road to Carbon Reduction'. The project will offer free support to help Peebles and surrounding towns to reduce carbon emissions through carbon literacy education and practical activities including growing more food for local consumption. The walking plant swap fits the project perfectly because it encourages people to grow more food and walk to collect plants instead of driving.
The Spring seed and plant swap is inspiring Peebles CAN to continue growing more food and they are already planning a walking harvest festival to match in the Autumn.
Good to Grow (the new name for the Big Dig) is an online platform to support food growing in the UK, run by Sustain and Sustainable Food Places. The Good to Grow Network is all about getting people involved in their local community garden. You can register your garden to the Good to Grow Network for free to promote your garden locally to volunteers and other organisations, use the online Harvest-ometer and all the other functions and take part in co-ordinated events such as Good to Grow Day.
Support our charity
Your donation will help communities grow more food in gardens across the UK.