Finding your happy place in a bag of flour.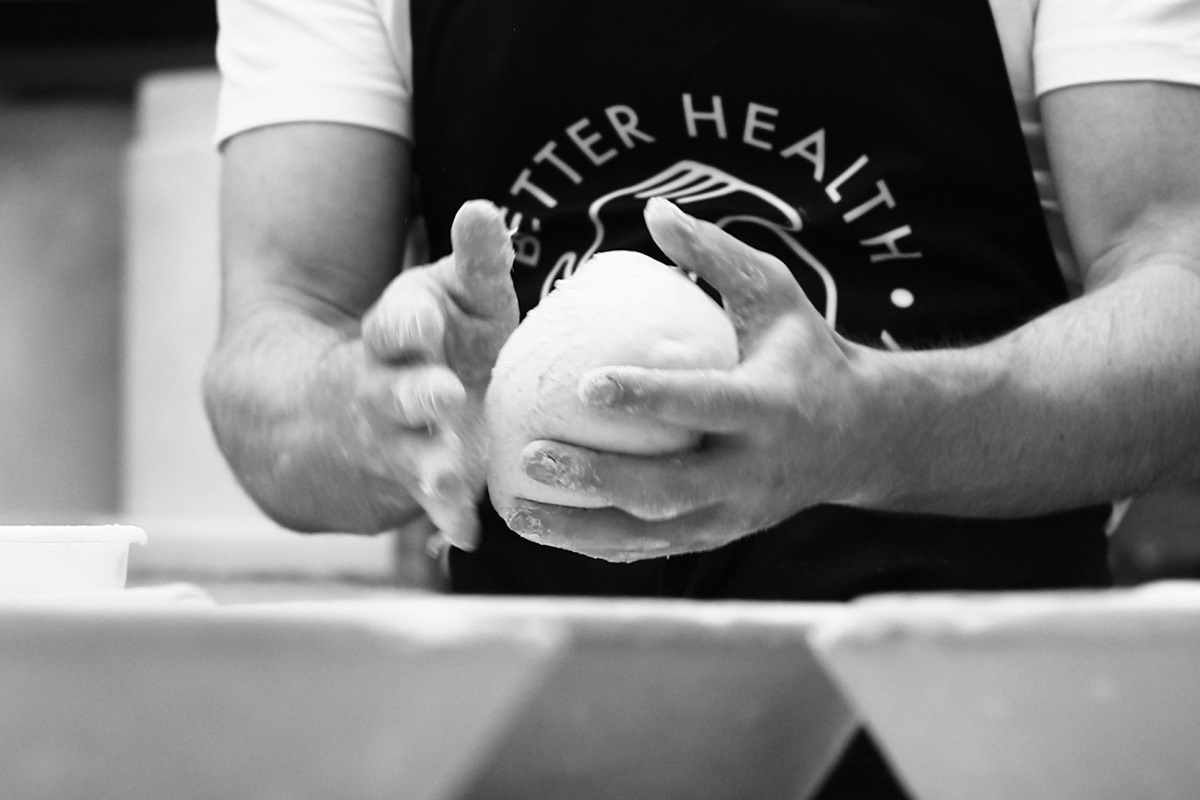 Photo: Chris Young / realbreadcampaign.org CC-BY-SA 4.0
With apparently half the world* now #LockdownLoafers, today the Real Bread Campaign launches a new area of its website as part of its ongoing Together We Rise initiative.
Bready boost
Call it mindful baking, therapeutic bread making or, well, just baking, many people find that doing the doughy deed gives them a bready boost.
Real Bread Campaign ambassador Ian Waterland said: "Making bread is a fundamentally mindful process. It is tactile and incorporates all of the senses. It is productive and satisfying. In short, it can make people feel better."
Real Bread Campaign coordinator Chris Young, who wrote the new guide, added: "Everyone's way to okay is different and baking might not be part of yours, but we encourage you to give it a go to find out."
Experts
Amongst the experts consulted for the project were Real Bread Campaign ambassadors, supporters and friends, including:
Pauline Beaumont, author of Bread Therapy: The Mindful Art of Baking Bread (out this September)
Simon Cobb, owner of Stoneham Bakehouse in Hove
Julia Ponsonby, author of The Art of Mindful Baking
Ian Waterland, a former mental health nurse who now runs the Knead Good Bread microbakery, as well as mindful baking and therapeutic baking classes at The School of Artisan Food
Pauline said: "Making bread gives ample opportunities for us to be fully present and connected to the physicality of the bread-making process and to have the satisfaction and reassurance of seeing something through from start to golden-crusted finish."
Simon shared that: "Baking has been at the heart of my own journey towards living with my mental health difficulties. The physical process is a therapeutic act in itself, but it's more than that. For me the whole process supports my wellbeing."
Bake well start
Sections of the new guide include:
Things to think about before you begin baking
What to bake
Techniques (kneading, not kneading and more)
Mindful baking
The five ways to wellbeing
The Real Bread Campaign invites people to help continue building the guide.
The new guide is being launched ahead of The Mental Health Foundation's annual Mental Health Awareness Week in the UK, which this year runs from 18-24 May.
*Okay, this isn't verified stat, though we did receive a media release this week that said internet searches for how to bake bread have gone up 900% since lockdown, and that bread making is the second most searched for how-to across the UK - number one in Northern Ireland.
Published 15 May 2020
Real Bread Campaign: The Real Bread Campaign finds and shares ways to make bread better for us, better for our communities and better for the planet. Whether your interest is local food, community-focussed small enterprises, honest labelling, therapeutic baking, or simply tasty toast, everyone is invited to become a Campaign supporter.
Support our charity
Your donation will help support the spread of baking skills and access to real bread.