Secretary of State Michael Gove MP has said that the UK would accept US food standards "over my dead body", in an interview with good food advocate Rosie Boycott at the Hay Festival, 2018.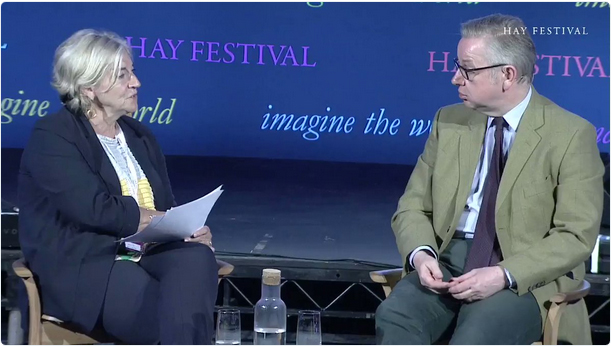 Photo credit: Hay Festival 2018
A transcript of the question and answer is as follows:
Rosie Boycott: "You're saying that we will never have standards in this country which would permit the wholesale import of a load of American food?"
Michael Gove: "Well, er, I've been clear…"
[Audience laughter]
Rosie Boycott: "Is that a fact?"
Michael Gove: "Over my dead body, as it were."
A video clip from the interview is available from the Hay Festival on Twitter
Michael Gove's comments follow challenges in a Farmers Guardian interview that he was intent on pursuing a cheap food policy and valuing environmental gains over food production. In response, Michael Gove said: "If you are valuing the environment you cannot really be an advocate of cheap food. The two almost knock each other out.
"Food that is produced cheaply abroad actually created an environmental and other cost that someone has to bear.
"The truth is we want high quality food."
Several Sustain members, and food industry representatives, also attended a meeting in early May to explore Michael Gove's stated idea of a 'gold standard' label for British food. There was a general feeling that this could be used to sell the British food brand abroad, should encompass ethical and sustainability criteria, and should build on existing standards not reinvent the wheel.
Support our campaign
Your donation will help us work with farmers to push for policies to support farming fit for our future.