Unity Kitchen Café to serve up glorious food legacy
The first cafe in East London's newly re-developed Queen Elizabeth Olympic Park will serve high-quality food to London 2012 health and sustainability standards.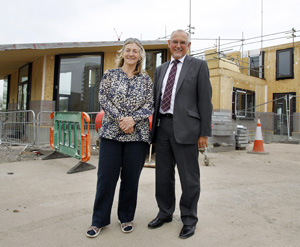 The first café on Queen Elizabeth Olympic Park will be operated by the Camden Society and named Unity Kitchen Café.
The Café will be one of four permanent cafes and four permanent kiosks across the 226 hectare (560 acre) site and will be the first to open on the Park in July. Alongside the Café there are two community rooms, which will be run by Community Links.
The London Legacy Development Corporation has also announced today that all permanent sites will be required to sign up to the Food Legacy Pledge and the Healthier Catering Commitment, both of which are supported by the London Food Board.
Rosie Boycott, Mayor of London's Food Advisor, Chairwoman of the London Food Board said:
"London's Games raised the bar in terms of serving up food that met high standards, not only in terms of taste but also through a commitment to improved food quality and animal welfare. This showed that good catering can be achieved even when working to tight commercial budgets. We adopted these standards at City Hall and urged others to do the same, so I am delighted that visitors to Queen Elizabeth Olympic Park's Unity Kitchen Café will continue to enjoy tasty grub served up by a company that's committed to providing good food."
Dennis Hone, Chief Executive, Queen Elizabeth Olympic Park said:
"Queen Elizabeth Olympic Park will be a great destination for visitors and a new community park for East Londoners. The Camden Society and Community Links will create a great new facility in the Unity Kitchen Café and provide jobs and training opportunities for local people. We are delighted that this will continue the commitment to food standards that were adopted during the Games."
The photo shows Rosie Boycott ( Mayor Of London's Food Advisor) & Dennis Hone ( LLDC Chief Executive ) at the North Park Visitors Centre to announce the first cafe on the Queen Elizabeth Olympic Park which will be operated by the Camden Society and named Unity Kitchen Cafe. Picture taken by David Poultney for the LLDC.
Gerald Oppenheim, Chairman, The Camden Society said:
"Unity Kitchen Café will contribute to the creation of a new and vibrant public space in the heart of east London. The combination of this beautifully designed café and flexible community space will provide a great place to relax and eat and drink with everything from community classes, to yoga sessions, to training seminars, business breakfasts, weddings and parties.
"We aim to make the most of the training and employment opportunities which the café will offer to people with disabilities, as it will be an additional venue for in-work training of our apprentices."
Geraldine Blake, Chief Executive, Community Links said:
"We are delighted to be part of this exciting project. We look forward to making sure Unity Kitchen Café is a fantastic resource for our local community as well as a destination for visitors from around the world."
Unity Kitchen Café will be in the north of the Park at the newly built Timberlodge. It has space for up to 80 indoor diners and a further 100 at table seating outside. The community rooms cover almost 150m² and open out on to a lawn enclosed by hazel woodland, which could also be used for events. They will be used for a whole range of local activities including craft days, award ceremonies, enterprise events, parties and performances.
Timberlodge has been purpose built by Bam Nuttall, it sits alongside one of the best children's playgrounds in the UK. The playground has been partially funded by a £1million grant from the London Marathon Charitable Trust and is a spectacular children's playground which encourages imaginative play and draws upon the natural surroundings. The playground includes hazel woodlands and pine forests, log piles and tree trunk climbing frames for children to explore. The design is based on a combination of learning and imagination to really inspire children's creativity.
Timberlodge and the playground are situated in the north of the Park which is dominated by beautiful green parklands, meadows and the waterways of the River Lea, an area which proved immensely popular with visitors during the Games. Timberlodge has views across the Park on three sides; south into the Park towards the Stadium, north-west over the river and north across the playground and is situated on the main east to west route through the Park.
Additional temporary cafés and restaurants could be added, across the Park there is scope for a further café close to the bridge to Westfield Stratford City, a floating restaurant on the waterways, a large restaurant or bar on the highest point in the Park, known as the Belvedere and a variety of food festivals, mobile carts and pop up dining experiences.
The Food Legacy Pledge is based on the London 2012 Food Vision and Procurement Code and requires employers to pay Living Wage, provide good food training and to source food from sustainable and fair trade suppliers where possible. The Pledge was developed by Sustain and is supported by a range of organisations across the capital.
Queen Elizabeth Olympic Park opens in phases between July 2013 and spring 2014, it will be a whole new part of the city to enjoy and will provide jobs and homes for east London.
Notes to editors
Images can be downloaded here: http://www.2012imagelibrary.co.uk/index.php?a=SavedSelections&i=141&signature=jT_DFlhXd9djtFTFrsWzk9v5SMZ8pXB-XeaUX1n8kjk
Unity Kitchen is a chain of six catering social enterprises run by a registered charity, The Camden Society. The outlets provide training and apprenticeship opportunities for people with learning disabilities, and profits are used to fund further training and employment opportunities. Unity Kitchens are run in partnership with community and public sector organisations in public buildings, community centres, libraries and museums. www.unitykitchen.co.uk
The Camden Society www.thecamdensociety.co.uk campaigns for the rights of people with learning disabilities and supports them in living full and independent lives. It delivers housing support, employment and community services across London and in Oxfordshire for over 600 people a week. It established Unity Kitchen in 2010 as a sustainable and self-sufficient way of generating money to fund the charity's work while providing employment and training for people with disabilities.
Community Links is an east London social action charity running community-based projects for 30,000 children, young people and adults every year. Founded in 1977, it pioneers new ideas and new ways of working locally in east London and shares the learning nationally with practitioners, policymakers and the press. Visit: www.community-links.org
For more information on the Food Legacy Pledge go to https://www.sustainweb.org/foodlegacy/food_legacy_pledge/
The Healthier Catering Commitment is a promise that all food sellers on the Park will seek to reduce the amount of saturated fat, sugar and salt used in food sold to customers.
The Commitment has a number of essential requirements including using healthier oils, less salt, and offering smaller portions for both children and adults, and ensuring there are healthy options on the menu.
For the full list see here: http://www.cieh.org/uploadedFiles/Core/Membership/Regional_network/London/Healthier_Catering_Commitment_for_London_Criteria_March_2011.pdf
The London Legacy Development Corporation promotes and delivers physical, social, economic and environmental regeneration in Queen Elizabeth Olympic Park and surrounding area, in particular by maximising the legacy of the Olympic and Paralympic Games.
Queen Elizabeth Olympic Park will begin to open from July 2013 and will be fully open from spring 2014, it will be a whole new part of the city to enjoy and will provide jobs and homes for east London.
For more information about the Legacy Corporation visit: www.londonlegacy.co.uk/about-us
For more information about Queen Elizabeth Olympic Park visit: www.NoOrdinaryPark.co.uk
For further information contact the Media Team at the London Legacy Development Corporation on +44 (0) 20 3288 1777, +44 (0) 7817 386 499 or email: pressoffice@londonlegacy.co.uk
Published 7 May 2013
Food Legacy: The campaign, launched October 2011, is inspired by the London 2012 Food Vision adopted by the organisers of the London 2012 Olympic and Paralympic Games. Food Legacy asks caterers, restaurants, event organisers and hospitality organisations to commit publicly to taking steps to improve the healthiness, ethics and sustainability of the food they serve.
Support our charity
Donate to enhance the health and welfare of people, animals and the planet.