British Library event: Eating well for older people
Joan Bakewell, Kath Dalmeny and Neel Radia ask what diet and nutrition support and advice does an ageing population need to thrive?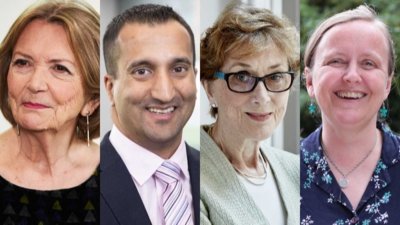 Joan Bakewell CBE, Neel Radia, Carol Black and Kath Dalmeny. Credit: British Library
In the midst of a cost-of-living crisis and an adult social care crisis, how does an increasingly ageing population feed itself? Or should the question be: how does a responsible society make sure that its elderly community has the nourishment needed for physical, mental and social well being?
The challenges run across so many areas. Hospitals, where a large proportion of long-stay patients are older and waiting to be moved into adequate social care. Nursing and care homes, who struggle to offer a stimulating eating environment and varied, nutritious diet their communities need. The decline in funding for Meals on Wheels for older and disabled people living independently in the community – or after being released from hospital. And support in learning how to cook at home for people who have lost a partner and find themselves in their advancing years suddenly feeding one for the first time.
Our older people are so often marginalised from access to food; and from the enjoyment of cooking, eating and sharing food that can make life so much richer. Yet despite the funding and priority challenges there are advocates and programmes across the country that are prioritising good food for older people.
With broadcaster Dame Joan Bakewell, who is a long-time advocate of rights and support for older people; Kath Dalmeny, Chief Executive of Sustain; and Neel Radia, whose work with Meals on Wheels and other social enterprises tackles social isolation and loneliness.
Introduced by Professor Dame Carol Black, Chair of the British Library and the Centre for Ageing Better.
This event is part of the British Library Food Season 2023.
This event takes place in the British Library and will be simultaneously live streamed on the British Library platform. Tickets may be booked either to attend in person, or to watch on our platform (online) either live or within 48 hours on catch up. In-person ticket bookers will also be sent a bonus link to the online event. Viewing links will be sent out shortly before the event.
Half price tickets available for Members, Students, Under 26s and other concession groups.
Joan Bakewell CBE is one of the UK's best-loved broadcasters and journalists. Bakewell began her career at the BBC, where she would go on to work prolifically as a broadcaster in radio and television, presenting BBC1's Heart of the Matter, PM on BBC Radio 4 and producing special reports for BBC1's Panorama, to name but a few. In recent years, she has presented BBC Radio 3's Belief Series and Sky Arts' Portrait Artist of the Year. Dame Joan worked as a columnist for many of the UK's major broadsheet newspapers including The Times, The Guardian and The Daily Telegraph, and has written ten books, including the memoir The Centre of the Bed and her debut novel All the Nice Girls. Bakewell was made a C.B.E in 1999 and a Dame in 2008. In 2011 Dame Joan took her seat in the House of Lords as Baroness Bakewell of Stockport, where she has served on Select Committees on subjects as diverse as the Regeneration of Seaside Towns and AI, and advocated for support and rights for older people.
Professor Dame Carol Black is currently Chair of the British Library, the Centre for Ageing Better, and Think Ahead, the Government's fast-stream training programme for Mental Health Social Workers. She co-chairs NHS England/Improvement's Expert Advisory Group on Employee Health and Wellbeing. In 2022 she was appointed Independent Adviser to the Government on combatting misuse of drugs. In 2019 she completed a seven-year term as Principal of Newnham College in Cambridge University, where she was a Deputy Vice-Chancellor. She is a Patron of the Women's Leadership Centre in the Judge Business School. Dame Carol has completed four independent reviews for the UK Government: of the health of the working-age population in 2008 as National Director for Health and Work; of sickness absence in Britain in 2011 as co-chair; of employment outcomes of addiction to drugs or alcohol, or obesity, in 2016; and on illicit drugs, demand, supply and treatment. Professor Black is a past-President of the Royal College of Physicians, of the Academy of Medical Royal Colleges, and of the British Lung Foundation, and past-Chair of the Nuffield Trust for health policy. The Centre she established at the Royal Free Hospital in London is internationally renowned for research and treatment of connective tissue diseases such as scleroderma. She has been a Trustee of the National Portrait Gallery.
Kath Dalmeny is Chief Executive of Sustain: The alliance for better food and farming, with over 20 years' experience of running campaigns and practical initiatives to improve the food system for health and sustainability and to tackle climate change. She helped run the Campaign for Better Hospital Food, is a long-serving member of the London Food Board, serves on the board of an inspiring farmer-focused local food trading network, and during the Covid-19 coronavirus pandemic led on initiatives to help older, disabled and isolated people, as well as families on low incomes, to gain access to essential food supplies. She also helped establish the Sustainable Food Places network working with over 80 towns, cities and regions across the UK.
Neel Radia is the Founder of Cake 4 Kindness CIC, a social enterprise working towards alleviating social isolation and loneliness amongst those experiencing homelessness, through the distribution of cake. Neel also spearheads the vital awareness campaign on Meals on Wheels on behalf of the National Association of Care Catering (NACC), where he served as National Chair from 2013-19. Neel has passionately championed the protection of Meals on Wheels services that includes lunch clubs and has supported several other charities who provide nutritional support for older people and marginalised communities for over 20 years. His work has been recognised with several industry awards including being recognised as Public Sector Catering Most influential from 2014-18.
If you're attending in person, please arrive no later than 15 minutes before the start time of this event.
Details
Name:
Eating for the Elderly
Where:
Pigott Theatre
The Knowledge Centre
The British Library
96 Euston Road
London NW1 2DB
Show Map How to get to the Library
When:
-
Price:
From £3.25 – £10
Members' priority booking opens 7 March, general sale 9 March
Enquiries:
+44 (0)1937 546546; boxoffice@bl.uk
Support our work
Your donation will help communities identify ways to alleviate food poverty and increase access to healthy food.