Seven in ten snacks sold as part of on-the-go meal deals are 'dangerously high in salt, sugar and saturated fat', according to new research from Action on Salt to mark Salt Awareness Week, 14-20 March 2022.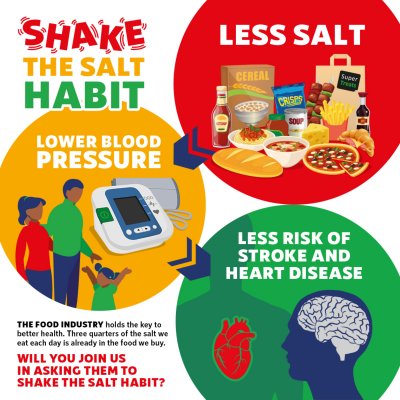 Salt Awareness Week 2022. Credit: Action on Salt
Meal deals have become a regular part of many adults' weekly food intake, with one in three people buying them at least twice a week, which typically contain a sandwich/salad, snack or side plus a drink for a fixed price or as part of a special offer.
Researchers from Sustain member Action on Salt have analysed snacks sold as part of meal deals in eight retailers including the big supermarkets, Boots and Shell stations. They found that one in three contained very high levels of salt, with some contributing a third of recommended maximum adult daily intake.
Excess salt intake is a leading risk factor for high blood pressure, which in turn leads to cardiovascular disease (CVD, i.e. stroke and heart disease), the major cause of death and suffering in the UK and worldwide. Salt intake is also linked to kidney disease, osteoporosis, stomach cancer and obesity.
Whilst these snacks fall under various government salt reduction targets for the food industry to work towards, overall a third (30%) of meal deal snacks exceed their maximum salt target, in particular meat products and biscuits. Snacks bought on a meal deal in Morrisons are more likely to fail to meet their salt target (46%) compared to snacks sold at Sainsbury's (19%).
Sonia Pombo, Campaign Manager for Action on Salt says:
"Despite the overwhelming impact on health, many companies appear to have forgotten that salt is a killer. These findings are well and truly shocking, especially given the vast amount of people that purchase these meal deals on a regular basis. In order to shift our food choices to healthier products, we need food companies to provide us with better, healthier and more affordable options. Now is the time for the food industry to act and improve the nutritional quality of the foods they sell, and if they can't do it voluntarily, then the Government must step in and legislate, for the benefit of our health."
Barbara Crowther, Children's Food Campaign Co-ordinator, says:
"Getting children off to a healthy start in life means making sure they don't eat too much salt, as well as sugar. How can families shake the salt habit if it's already lurking in the normal, everyday foods and meals they buy? From tinned and chilled foods we buy in supermarkets to the meals we order from restaurants and takeaways, let's all get behind Salt Awareness Week 2022, and call on companies to go faster and further to reduce salt from their recipes."
Salt Awareness Week, 14-20 March 2022, aims to shine a spotlight on all the salt lurking in the ready meals, snacks and products people buy, and calls on industry to work harder to reduce salt levels and support the public to shake the salt habit. To mark the week, Action on Salt and World Action on Salt, Sugar and Health (WASSH) have also published a new report Salt Reduction: What Works? analysing the history and impact of government interventions from voluntary and mandatory targets, front of pack labelling and fiscal measure intervention.
Graham MacGregor, Professor of Cardiovascular Medicine at Queen Mary University of London, and Chairman of Action on Salt, said:
"Reducing salt is the most cost-effective measure for lowering blood pressure and reducing the number of people suffering and dying from strokes, heart disease and life changing disabilities associated with this – all of which is completely avoidable. Given the fact that food companies have the very simple option to reformulate with less salt and help prevent the many thousands of people who currently die unnecessarily, it's remarkable that very few companies choose this option. This is why the Government must enforce its comprehensive salt reduction targets without delay."
For more information:
Read Action on Sugar's full press release and research findings on snacks
Check out events and resources for Salt Awareness Week 2022
Read the report Salt Reduction: What Works?
Support our campaign
Your donation will help us champion children's rights, parent power and government action to improve the food environment children grow up in.