A million more school children could receive free school meals and be entitled to extra funding if the sign-up process for the scheme was simplified and extended to more families, according to council leaders and the Local Government Association. Sustain's Children's Food Campaign responds.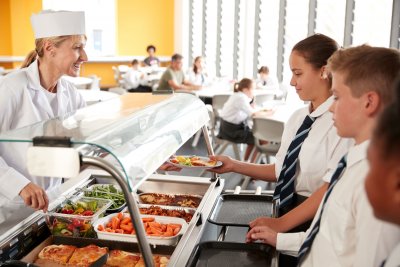 School meals. Credit: Monkey Business | Shutterstock
The Local Government Association, which represents councils, said automatic enrolment for free school meals should be introduced and eligibility expanded to include all children who meet the income criteria, regardless of their parents' circumstances.
Automatic enrolling of school children who are eligible for free school meals and expanding its criteria were among the recommendations in the National Food Strategy, written by independent adviser Henry Dimbleby, which the LGA is calling on government to include in the forthcoming white paper on food.
The LGA is also urging the Government to review the current £7,400 income threshold for free school meals, which has remained unchanged since its introduction in 2018, in order to reach more children who are on the cusp of experiencing food poverty as household budgets are squeezed by rising prices and inflation.
The National Food Strategy estimated that a further 1.1 million children could benefit from free school meals if the income threshold is raised to £20,000 and if immigration limitations on who is eligible are lifted on a permanent basis - for all children currently in households who are undocumented or with irregular immigration status.
However Scotland and Wales have gone further to expand universal provision for primary age children, which would also automatically include all children regardless of their background.
Responding to the statement from the Local Government Association, Children's Food Campaign Co-ordinator Barbara Crowther said:
"It is shameful that hundreds of thousands of children who are already eligible for healthy hot school meals are missing out because of paperwork barriers. We welcome local council leaders speaking out about this issue. Automatic enrolment of all eligible pupils would cut red tape for overworked school leaders and local authorities and ensure all children who need a meal can get one.

"Given the current cost-of-living crisis, the choice between heating and eating is becoming starker for millions of families. Healthy food is vital for children's ability to concentrate and learn. Children's education has been hugely disrupted by the pandemic, and the current cost of living crisis will inevitably push more families into cutting budgets and towards less nutritious diets. In the midst of this, the English government insists on an income threshold so low that two in five children living in poverty aren't even eligible for free school meals. Meanwhile Scotland and Wales are forging ahead with expanding universal primary school meals, and exploring further eligibility at secondary level. We urge the Government to urgently review the £7,400 threshold and commit to a progressive roadmap towards universal healthy food, so that this is the norm for every child, regardless of their background or parents' circumstances."
The campaign to expand eligibility to children in households with no recourse to public funds, there was welcome progress on 25 March when Education minister Will Quince announced a temporary extension to free school meal access introduced during pandemic lockdowns would be made permanent from 22 April 2022.
Josephine Whitaker-Yilmaz, policy and public affairs manager at charity Praxis, said:
"At a time when the cost of living is rising rapidly, this decision could not come at a better time for many of the families we work with.

"We would urge the department to urgently clarify whether children in families with insecure or irregular immigration status, who are amongst the most excluded in our society, will also benefit from this measure."
Data on which school children are eligible is already held at government level, but the current process means parents have to formally apply to their local authority, or via their child's academy school, to claim for free school meals.

Government estimates on claim rates indicate that automatic enrolment could capture the 11 per cent of eligible school children who have not yet taken up the offer. Analysis of these figures by the LGA and the Child Poverty Action Group show this equates to 215,000 school children in England, under the current eligibility criteria.

This in turn would generate tens of millions of pounds in valued extra pupil premium funding for schools, which is allocated based on the number of free school meals claims per school, to help them narrow the attainment gap between children from disadvantaged backgrounds and their peers.

Cllr Shaun Davies, Chair of the LGA's Resources Board, said:
"Rising food, fuel and other costs affect everybody, but particularly low-income households with children who rely on extra support to make ends meet.

"Given these pressures, it is absolutely essential that all those who are eligible can get the help they need, including access to free school meals, at a time when we know the price of food and the general cost of living are spiralling.

"Streamlining and removing the red tape in the applications process, so that councils get given the information they need, is vital if we are to ensure no child misses out on a healthy meal. The Government should also urgently look to raise the earnings threshold and permanently extend the criteria to those who are currently not eligible due to immigration status, including for undocumented parents and those with irregular immigration status, so that no child goes hungry."

Further information:
• Parliamentary question on free school meals on 13 October 2020 confirmed that there is only 89 per cent take-up among those who are entitled.

• The 215,000 pupils figure has been taken from CPAG/LGA research and analysis of government figures.

• The Government announced on 25 March that temporary eligibility for some children from households living under the No Recourse to Public Funds (NRPF) immigration condition would be made permanent from 22 April 2022. However this does not include some of the most vulnerable children who are undocumented or with irregular immigration conditions. Eligibility thresholds for some families with no recourse to public funds were announced as follows:
£22,700 per annum for families outside London with one child.
£31,200 per annum for families within London with one child.
£26,300 per annum for families outside London with two or more children.
£34,800 per annum for families within London with two or more children.
• Section 115 of the Immigration and Asylum Act 1999 states that a person will have 'no recourse to public funds' if they are 'subject to immigration control'. This means they have no entitlement to the majority of welfare benefits, including income support, housing benefit and a range of allowances and tax credits.

• The National Food Strategy, written by businessman and campaigner Henry Dimbleby, is an independent report published in July 2021 looking at the entire food chain from field to fork, which makes recommendations for government to respond to in an upcoming white paper.

• The food strategy recommends all pupils entitled to FSM be automatically enrolled to receive the benefit.

• The food strategy also recommended that, as a first step, the earnings threshold for free school meals (FSMs) eligibility to be increased from £7,500 to £20,000 per year; and for all 16 to 18-year-olds plus children whose parents have no recourse to public funds or are undocumented, be eligible for FSMs (subject to the same earnings threshold). If implemented in full, these two policies would entitle approximately 1.1 million more children to FSMs in England and would cost £544 million per year for 3 years.

Support our campaign
Your donation will help us champion children's rights, parent power and government action to improve the food environment children grow up in.