Glasgow embraces Veg Power
Schools and several Glasgow organisations are putting Veg Power and the Veg of the Week at the heart of their activities to make vegetables exciting and appealing to the communities they work with.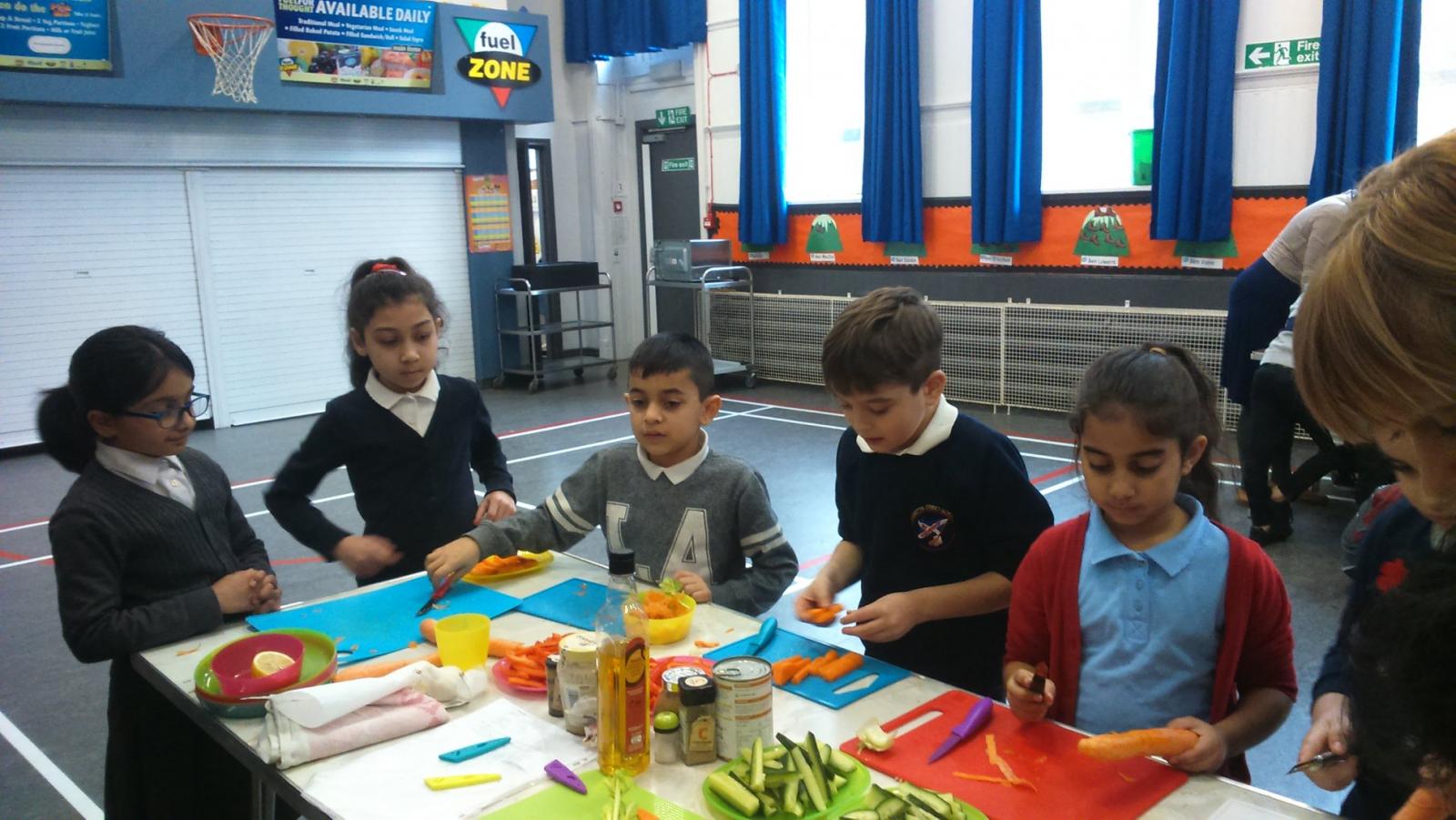 The 'Veg Cities Roadshow' visited ten schools in Glasgow. Credit: Glasgow Community Food Network
Veg Cities Glasgow, coordinated by Glasgow Community Food Network (GCFN), is using Veg Power as a platform to promote their own School Veg Challenge Poster Competition which is open to all schools in Glasgow. 20,000 Veg Power packs have been sent to primary schools. So far, the poster competition has reached 38 schools and they are all working on their entries. Each school can send ten of their best 'Promote Veg' posters, which will be shortlisted down to ten. The winner will be unveiled at an event on 27th March. GCFN is working to secure advertising space across the city to place the winning design and the first ten schools to register their entries have received a visit from the 'Veg Cities Roadshow' which includes cooking, games and gardening.
Community organisations have embraced the Veg Power advertising campaign and the Veg of the Week. Initiatives include a ten week Veg Power Cooking Club, promoting Veg of the Week at community shops and pop up veg stalls, regular community meals featuring the Veg of the Week and much more.
Examples include a 10 week Veg Power Cooking Club by Propagate, a collective based in Glasgow and working across Scotland that invests in new and innovative ideas to rethink and recreate our food system. The cooking club takes place at Moogety Grub Hub. This unusual sounding social enterprise was set up in 2015 to tackle food poverty in the local community and combines many food-focused projects including supplying and supporting local produce and offering people the tools to lead healthier lives. The cooking course is intended to be a fun and sociable course to inspire confidence in cooking with vegetables. Dishes so far included carrot and coriander soup, sweetcorn fritters, pea and spinach fritatta, and cauliflower and sweet potato curry. The participants eat together at the end. Photos here
Blackhill's Growing is including the Veg of the Week in their community meal which take place twice a week. On a Tuesday, local teenagers learn how to cook tasty, healthy foods, and then share them as a community from young children to older members of the community. On Thursdays, the pizza oven is fired up, and the community is invited to pop in, choose their toppings (some sourced from the polytunnel), and have their pizza cooked for them. Blackhill's Growing has transformed an overgrown, unused piece of land into a vibrant urban growing space with three polytunnels burgeoning with diverse produce, an orchard, hens and bees.
Moogety Foods, affiliated to Moogety Grub Hub, is using the Veg of the Week in their weekly community meal, and selling affordable meal bags with recipes on a popup stall at the community meal.
The final example is from the North Glasgow Community Food Initiative, holding sessions and cooking demos in schools and Penelope Peapod sessions in nurseries using the Veg Power resources.
Veg Cities Glasgow was launched in September 2018 and is coordinated by GCFN. To learn more about their campaign visit: https://www.vegcities.org/local/glasgow_city/
Sustain are encouraging more areas to launch Veg Cities campaigns, and get local businesses and organisations making veg pledges. Veg Cities is currently the feature campaign of Sustainable Food Cities, and is run in partnership with Peas Please.
Support our charity
Your donation will help communities across the UK to increase the availability and consumption of vegetables.