A group of farming, conservation and environmental groups (1) are releasing today (21 March 2018) a statement calling for the protection and enhancement of farm diversity as a core purpose of the new agriculture bill (2). The measures they are calling for will help deliver the food we need whilst creating a resilient and dynamic farming industry, which works for the wider community as well as for the environment.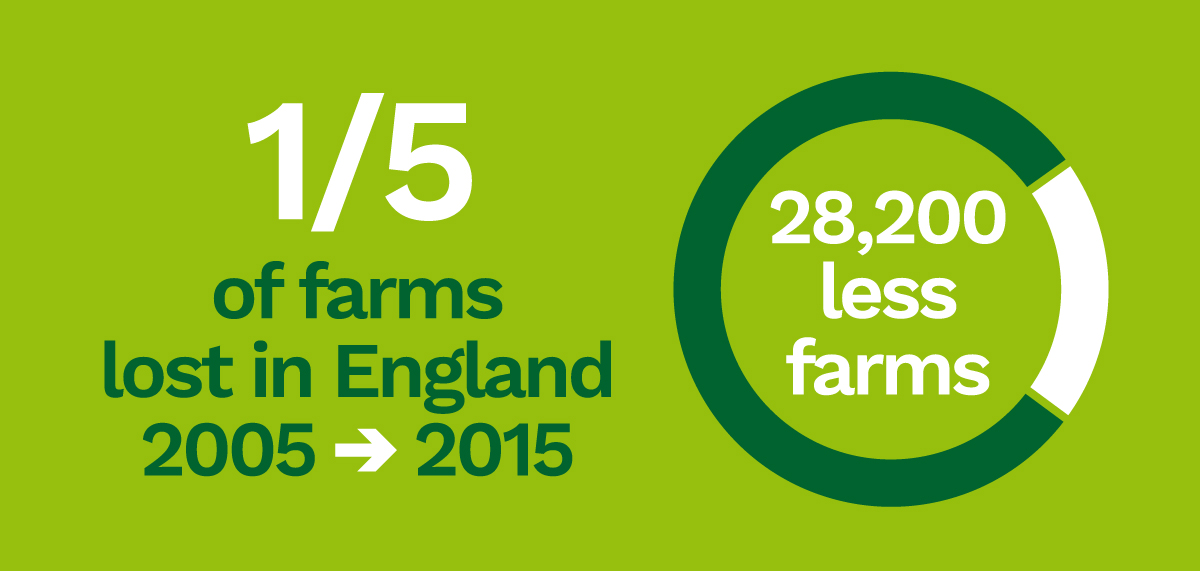 Having a range of farm sizes and types is vital to ensure a thriving farming and rural industry, available and attractive to new entrants and progressing farmers and for producing a healthy countryside and landscape. Yet there has been a dramatic loss of English farms over the past decade threatening damage to landscapes, rural jobs and cohesion and habitats.(3)
The organisations, including CPRE, Tenant Farmers Association and Sustain, see a real risk of further loss of the mix of farms, and small and medium sized farms in particular, unless safeguards are put in place for when we leave the European Union. They recognise that farms need to expand or shrink over time but challenge the continued, harmful concentration of tenure/ownership across the industry as a whole.
In their statement they are asking for clear acknowledgement of the need for safeguards in new national policy and for specific measures to rebalance support to strengthen the dynamism, innovation and sustainability of smaller enterprises. These include:
redistribution of future support so that the farm budget is more evenly shared between larger and smaller farms
specific measures targeted at the smaller and medium sized farm business.
public investment specifically targeted to the smaller farm sector
Quotes from supporting organisations:
Vicki Hird, farm Campaign Coordinator of Sustain said
"With the future so uncertain, farms are an endangered species. It's shocking that England has lost almost 50% of its farms in the last 70 years and we owe a debt of gratitude to the small farmers who have done so much to shape our countryside. As we exit the EU and start to make our own decisions about how to support farmers, the government has a chance to end the unfettered rewards for large landowners, and instead distribute payments more fairly across the farming system, giving small farmers the support they so desperately need. We all understand the principle of needing to help young people onto the housing ladder – well the same principle applies with our farmers."
Tenant Farmers Association Chief Executive George Dunn said
"It is vital to have a structure within the farming industry which encourages progression. That means having small, medium and large farms and a well-functioning landlord tenant system underpinning occupation, investment and resilience. A key focus to achieve this must be to look at reform of the taxation system which underpins land ownership and occupation."
Graeme Willis, Senior Rural Policy Campaigner at the Campaign to Protect Rural England (CPRE), said:
"The Government has great ambition for the environment but needs now to match that with ambition to deliver a diverse farming sector, giving farms large, medium and small the reassurance to go forward with optimism. We need a new agricultural policy that gives farmers a viable income to maintain the rich matrix of farms and farmers that we have - and need as custodians of a stunning and varied countryside as well as producers of food."
Notes
1. CPRE, Family Farmers Association, Friends of the Earth, Landworkers Alliance, New Economics Foundation, Sustain: the alliance for better food and farming, and the Tenant Farmers Association
2. The statement can be seen here and a background briefing with more detail on the evidence and measures here.
3. There has been a dramatic loss of English farms over the past decade threatening damage to landscapes, rural jobs and cohesion and habitats. Over the last few decades, the number of farms in England has declined dramatically: it is estimated some 95,000 farms in England (128,000 in England and Wales) were lost from 1950-1980, and a further fifth (21.3%) of the remaining farms were lost between 2005 and 2015. This is not an inevitable trend - England has lost the greatest percentage of farms (48%) compared to other EU countries, while Irish and Scottish farm numbers have increased. This is disproportionately due to the decline of farms below 200 hectares in size; with the numbers of the smallest farms declining the most. CPRE. Uncertain Harvest: does the loss of farms matter?, 2017
Support our campaign
Your donation will help us work with farmers to push for policies to support farming fit for our future.