Breadhead threads for Real Bread Week
To coincide with Real Bread Week (6-14 May), Balcony Shirts are producing limited-edition 'I Love Gluten' aprons and Fair Trade, organic cotton t-shirts, and making a doughnation to the Campaign for each one sold.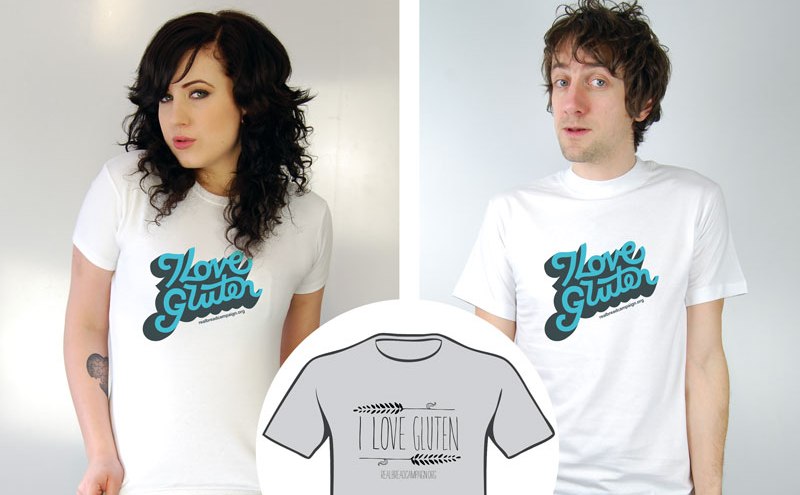 This year's Real Bread Week is the ninth annual celebration of supporting your local, independent, additive-free bakery and baking loaves at home.
It's fun to fou
Real Bread bakeries and baking schools around the globe will be leading a farinaceous frenzy of fougasse formation. This simple-to-make Real Bread lends itself to shape making, from a classic leaf design, to funny faces. It's a family-friendly favourite that's great to share – not only in eye-catching social media posts, but also for real.
Everyone taking part is welcome to use their own recipe or those shared by Campaign ambassadors Richard Bertinet and Andrew Whitley, or from our book Slow Dough: Real Bread.
Club culture
Echoing the format of many book and baking clubs, the Campaign is encouraging supporters and friends to host get togethers for people to try each other's loaves, compare notes and share baking tips. In some cases, events may be celebrations of more local, small-batch for and drink producers.
Details of Real Bread Week events and activities can be found and added to the Campaign's online calendar.
Whether or not taking part in a class or event, everyone is encouraged to bake fougasse – or any other additive-free loaf - and share it for real, as well as on social media using the #realbreadweek hashtag.
The t-shirts and aprons are available exclusively from Balcony Shirts, in two designs by Ritchie Xavier, only during May 2017.
Full details, including recipes and updates will be published on the Real Bread Week page of the Campaign's website: www.realbreadcampaign.org
Sheep farmer. Credit: Cottonbro | Pexels
Published 10 Apr 2017
Real Bread Campaign: The Real Bread Campaign finds and shares ways to make bread better for us, better for our communities and better for the planet. Whether your interest is local food, community-focussed small enterprises, honest labelling, therapeutic baking, or simply tasty toast, everyone is invited to become a Campaign supporter.
Support our charity
Your donation will help support the spread of baking skills and access to real bread.