US Act to increase fruit and veg consumption among low-income families
The Act would scale up funding to $3.5 billion over the five years of the 2023 Farm Bill and authorize $100 million of discretionary funding annually for state and local government.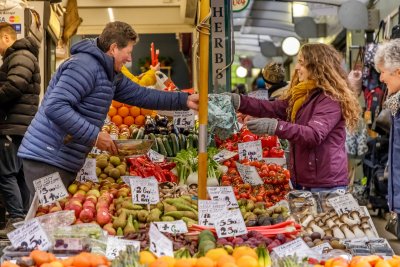 Fruit and veg market in Norwich, UK. Copyright: Anthony Smith Images | shutterstock_
New legislation is being proposed in the US to expand an existing programme incentivising low-income recipients to consume fruits and vegetables. If approved, the new 'Opt for Health with SNAP, Close the Fruit and Vegetable Gap Act of 2023' will expand the successful Gus Schumacher Nutrition Incentive Program (GusNIP), which incentivises low-income recipients to consume fruits and vegetables. GusNIP directly supports healthy food access amongst nutrition-insecure populations, by funding state/local governments and non-profits to provide point-of-sale incentives for SNAP recipients to purchase fruits and vegetables.
SNAP (Supplemental Nutrition Assistance Program) was formerly known as the Food Stamps programme. In some places participants are given a dollar-for-dollar match in SNAP when they purchase fresh produce, doubling their buying power. GusNIP also funds projects to demonstrate and evaluate produce prescriptions. From 2015 to 2021, GusNIP-funded SNAP nutrition incentives and produce prescription programs reached 48 states, including more than 200 projects in nearly 2,000 sites at farmers markets, farm stands, grocery stores large and small, and healthcare clinics.
In addition to significant health benefits, GusNIP has substantial positive economic impacts, particularly for fruit and vegetable farmers, who benefit from reliable access to expanded local markets.
Background
The backdrop for this legislation will not sound too dissimilar to that in the UK. Approximately 90% of Americans do not eat the recommended amount of fruits and vegetables to maintain a healthy diet, according to the Center for Disease Control. Maintaining a healthy diet is particularly challenging for low-income people, who report inability to afford healthy food as a primary barrier.
Their current federal farm subsidies are not aligned for health. Even though the Dietary Guidelines for Americans recommend at least 50% of a person's diet should be fruits and vegetables, less than 10% of Farm Bill agricultural subsidies go to farmers growing fruits and vegetables, and instead go to commodity crops like corn and soy, which are predominantly used in feed for animals, ethanol, or processed foods.
For these reasons, GusNIP is a win-win-win-win for participants, public health, farmers, and local economies.
Unlike Healthy Start payments, which are managed centrally in the UK and are mostly redeemed in large supermarkets in the UK, GusNIP funding goes to state/local governments and non-profits to provide point-of-sale incentives. This results in a wide variety of retail projects involved, including farmers markets, farm stands and small groceries, in addition to larger grocery stores.
Support our charity
Your donation will help communities across the UK to increase the availability and consumption of vegetables.