Government plans to halve childhood obesity are so far off track that numbers look set to double.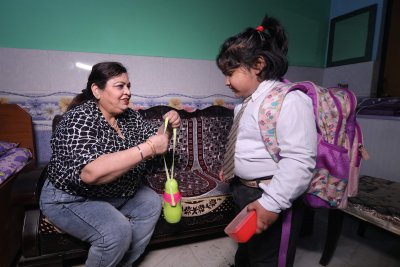 Woman giving water bottle to a child. Credit: World Obesity Federation
If current trends continue, 40 percent of 10-11 year olds will be living with obesity or overweight by 2030, according to new projections published by the Local Government Association (LGA). Additionally, overweight and obesity prevalence is likely to affect a quarter of 4-5 year olds, and children from the most deprived areas are at highest risk. The stark projections also find that no councils will halve their childhood obesity prevalence.
When the Government set the target, 9.7% of 4-5 year olds were living with obesity, and far from halving, the projections indicate there will be about a 15% rise in child obesity prevalence. It's a similar story with 10-11 year olds; obesity prevalence was 20.2% when the target was set, but that figure is on course to double to approximately 40% by 2030.
The LGA highlighted the upcoming Health Disparities White Paper as a key moment to promote children's health and turn these figures around. It called for greater powers for councils to tackle the clustering of existing takeaways and restricting junk food advertising, alongside extra investment in other council-run programmes such as weight management schemes and offering free or reduced-cost physical activity programmes.
Councils are calling on the Government to ensure funds raised by the soft drinks industry levy are used to solely address childhood obesity, distributed through local authority public health teams who know their communities best.
Cllr David Fothergill, Chairman of the LGA's Community Wellbeing Board said:
As these stark new projections show, there is still much to do if we are to avoid today's obese children becoming tomorrow's obese adults. The Government must work with councils and others to turbo charge the efforts to tackle this ticking health time bomb.

Access to healthy, nutritious food is a huge challenge for families in our most disadvantaged communities, particularly amidst the ongoing rise in the cost-of-living.

To effectively tackle obesity, councils need funding to provide targeted support to those who need it the most, including the restoration of funding for weight management programmes which was removed this year. Money raised from the soft drinks industry levy should also be reinvested in other council-run programmes, including healthy eating programmes and active play and physical exercise schemes.

Investment in councils' public health services now will reap benefits for everyone longer-term and help improve the life chances of the next generation.
Published 27 Jun 2022
Children's Food Campaign: Better food and food teaching for children in schools, and protection of children from junk food marketing are the aims of Sustain's high-profile Children's Food Campaign. We also want clear food labelling that can be understood by everyone, including children.
Support our campaign
Your donation will help us champion children's rights, parent power and government action to improve the food environment children grow up in.