New analysis from WWF and RSPB reveals that the UK's overseas 'land footprint' has increased by 15% compared to 2011-15, and food products are major contributors.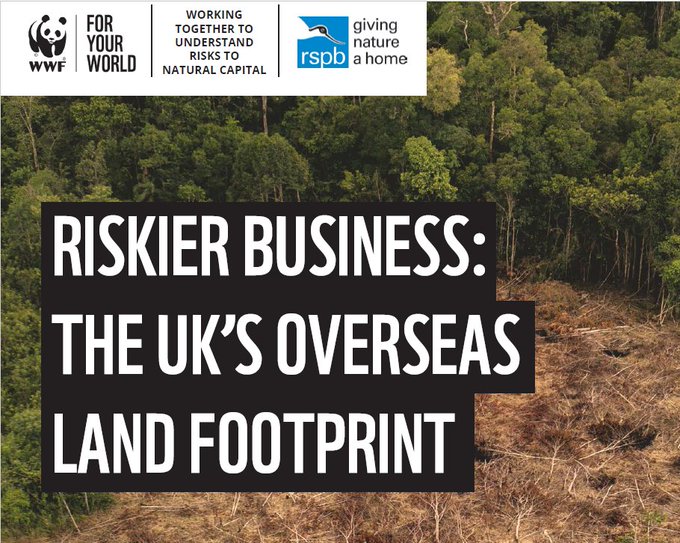 Credit: WWF-UK and RSPB
Between 2016 and 2018, UK demand for just seven commodities – beef & leather, cocoa, palm oil, pulp & paper, rubber, soy, and timber required an area equivalent to 88% of the total UK land area overseas. Imported timber, pulp and paper – which are seeing rising demand - had the largest land footprint, but key food commodity imports of beef and leather, palm oil, cocoa and soy equate to an area of over 7.5 million ha.

The report argues that this growing demand is driving greenhouse gas emissions, deforestation and extinction. At the moment these oversees impacts are not included in the UK carbon budget or climate strategy – so there are no requirements to mitigate them.

Food commodities are particularly land-hungry:
BEEF & LEATHER
- The land required to satisfy our demand for beef and leather is 3.8 Mha, nearly twice the size of Wales.
- Imports currently supply approximately one quarter of our beef
- More than a third of the total overseas land footprint (around 1.4 Mha) was located in countries with a 'high risk' of being associated with deforestation, conversion of natural ecosystems and/or human rights abuses, including Australia, Brazil and China.
COCOA
- The land required to supply UK demand for cocoa has increased 20% since the last assessment, from 884,372 hectares to nearly 1.1 Mha
- 80% of this land footprint is from Ivory Coast, Ghana, and Nigeria. Ivory Coast and Nigeria are very high and high risk areas, respectively.
 
PALM OIL
- The land required to meet the UK's imports for palm oil was on average 1.1 Mha per year. This is a decrease of 5% compared to 2011-15
- 89% came from high and very high risk countries (Indonesia, Malaysia and Papua New Guinea).
- There have been significant efforts to certify palm oil in the UK and globally (around 19% of global production and 77% of UK's palm oil imports are certified by the Roundtable on Sustainable Palm Oil as 'sustainably produced'). However, rates of deforestation and land conversion due to palm oil production continue to be as high. This suggests that these certification efforts have not been enough to improve sustainability on the ground.

SOY
- The land required overseas to meet the UK's annual demand for soy was an area approaching the size of Wales.
- Despite the UK now relying a little less on soy from South American countries, 65% of the soy land footprint is still located in Argentina, Brazil and Paraguay, and all are high and very high risk countries.
- More than half (56%) of the UK's soy imports were in the form of soymeal – which is primarily used for animal feed.
The report calls on Government to take a number of urgent actions, including:
• Securing high environmental and social standards in all trade agreements.
• Post Covid-19 recovery and bailouts must come with a guarantee of more sustainable and resilient supply chains.
• A mandatory due diligence obligation on all businesses and financial institutions. They must identify, mitigate and report on climate and nature risks and impacts in their supply chains or investment portfolios.
• Setting a time-bound, legally binding target to reduce the UK's overall environmental footprint by 2030, including a sub-target to halt oversees deforestation and conversion embedded within supply chains – to be set by the end of 2020.
The Covid-19 pandemic has put our complex relationship with nature in the spotlight. Converting and degrading ecosystems increases the risk of emergence of zoonotic diseases. Stopping the destruction of nature and protecting and restoring natural ecosystems is vital in securing wildlife habitats, addressing climate change and reducing the overall risk and frequency of future pandemics.
Ruth Westcott, climate change co-ordinator at Sustain said 'It's disappointing, but not surprising that our demand for beef, cocoa, palm oil and soy are consuming so much land oversees. We think of beef as quintessentially British but a lot of what we eat is imported - we can cut down on beef in our diets and support higher welfare and organic UK farmers. It is striking how much of our soy imports also go to animal feed. Clearly selling and serving less but better meat will make a big difference."

Support our charity
Donate to enhance the health and welfare of people, animals and the planet.