Sustain and Good Law Project threaten legal action to secure free school meals over the summer
The Government has been warned it will face legal proceedings if it fails to provide free school meals over the summer holidays, in a letter issued by lawyers acting on behalf of Sustain and Good Law Project. Yesterday, the Government announced that it will not extend a national food voucher system for children over the summer.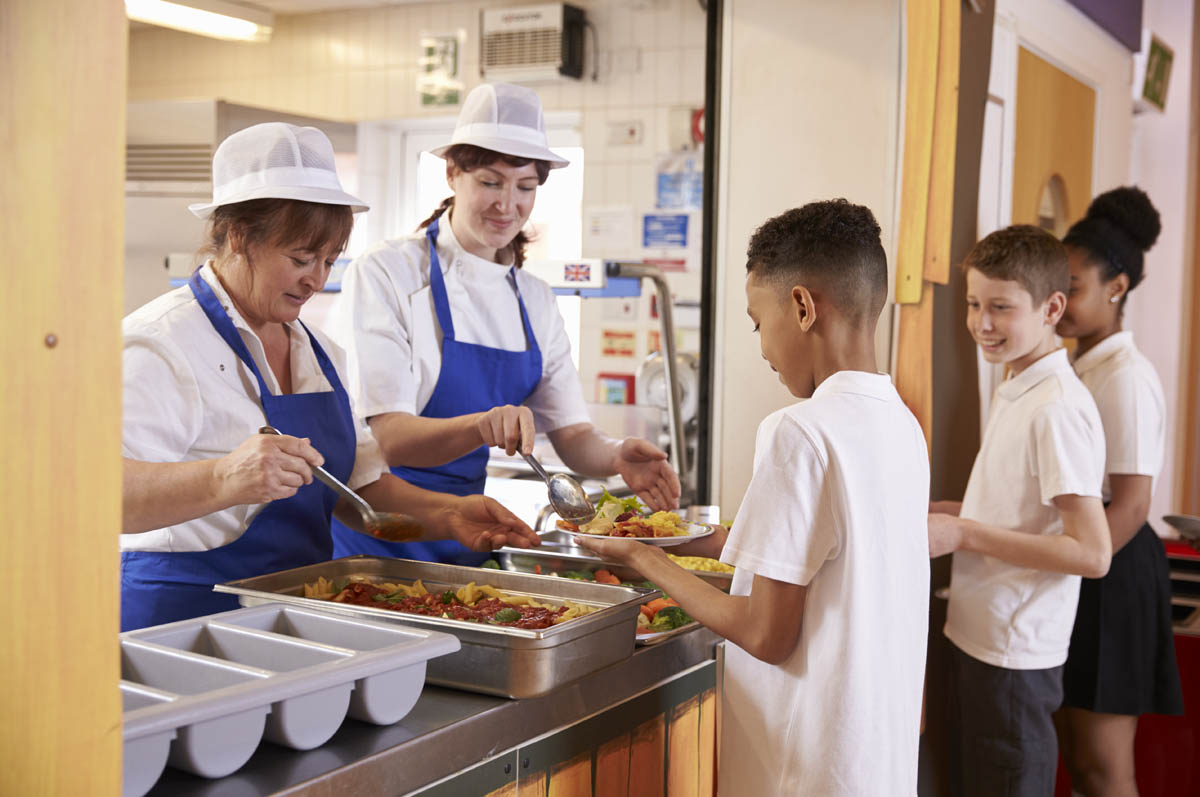 School serving food, credit: Shutterstock
FOR IMMEDIATE RELEASE: Friday 5 June, 2020
The letter from lawyers acting on behalf of Sustain and Good Law Project to the Secretary of State for Education seeks urgent clarification about what action the Government will take to address holiday hunger throughout the summer months, for schoolchildren in England. The letter gives the Government seven days to respond before the formal litigation process will commence.
The Government had introduced a national food voucher scheme for children eligible for free school meals when schools closed for the coronavirus lockdown. The scheme provided poorer families with a £15 per child voucher per week that can be spent at supermarkets to cover the cost of a child's lunch. It meant children could continue to receive at least one decent meal a day.
Following public pressure, the scheme was extended to cover the Easter holidays and the Summer half-term. But yesterday, 3 June 2020, the Government announced the national food voucher scheme would not cover the summer period, only three days after a government minister had said "We will work around the clock to ensure that nobody goes hungry as a result of this crisis."
Instead, the Government referred to a much smaller programme of holiday activities and food for 50,000 children from low-income families (which is just 4% of the number of children eligible for free school meals in England), as a continuation of the pilot programme it has offered in previous summers. They indicated they might consider extending this further, but with no guarantee.
The Welsh Government has already announced that it will continue to provide £19.50 per child per week funding for free school meal provision throughout the summer, raising the prospect of children in Wrexham eating whilst children in Wolverhampton cannot.
Kath Dalmeny, Chief Executive of the Sustain alliance, said
"Throughout the coronavirus pandemic, we have heard more and more stories of families with children struggling to put food on the table due to having too little money. The situation has got worse as parents lose jobs and income. Hundreds of thousands of children have gone without food and many food banks and local authorities have told us they cannot keep up with the avalanche of demand for emergency food aid.

"Hunger has no respect for term-time dates. Throughout lockdown, Sustain and many others have repeatedly called on the Government to guarantee that vulnerable children get the food they need, including over the long summer holiday. We have tried everything we can think of to secure every child's right to food, yet this week the Government said it has no plans to help the majority of vulnerable children over the summer. Taking legal action is a last resort, but the time has come. Hungry children in lockdown cannot march to Parliament to demand their rights, so this is why we're speaking up - with and for them."
Jolyon Maugham, Director of Good Law Project said:
"No child should go hungry in what is one of the richest nations on earth. It really is that simple. The Government acknowledged this when it introduced the food voucher scheme to ensure kids eligible for Free School Meals were fed when schools closed for lockdown.>

"Nothing has got better since the scheme was introduced. Millions of families across the country still face financial hardship because of the pandemic. Yet the Government still has not come up with a decent plan to ensure kids don't go hungry. If they don't, we will take formal legal action."
The legal action comes as pressure mounts on the Government to extend the provision of free school meals over the summer holiday. A petition, started by 16-year-old Christina from London who is one of around 1.3 million pupils in England entitled to Free School Meals, has gathered more than 175,000 signatures.
Christina (surname withheld) said:
"Imagine how those of us who rely on free school meal support felt when we heard they will be taken away from us during the summer holidays. It's time to bite back.

"I am urgently calling on the Government not to abandon children by taking away their lunch, and instead to support their basic rights. A few weeks ago, our Prime Minister Boris Johnson did a good thing, and took steps to make sure that young people like me could get a decent lunch while schools were closed. But now, for reasons they haven't explained to us, the Prime Minister has decided to take that support away.

"The Government is spending so much to protect businesses, and that's the right thing to do. But surely we need to protect the health of children too? Don't all kids have the right to get a decent lunch?"
Research, conducted by the Food Foundation, reveals the scale of the issue of food insecurity across the UK and its impact on children.
More than five million people in the UK in households with children under 18 reported experiencing food insecurity since the lockdown started (i.e. since 23 March 2020).

Parents have not been able to shield children from being directly impacted by food insecurity. Parents of two million children said their children had experienced food insecurity, and more than 200,000 children have had to skip meals because their family couldn't access sufficient food during lockdown.

1.8 million people in households with children experienced food insecurity solely due to the lack of food supply in shops, leaving 3.3 million people (11% of households) suffering from food insecurity due to other issues such as not having enough money or due to isolation.
---
Notes to editors
The Good Law Project and Sustain have instructed Jamie Burton of Doughty Street Chambers and solicitors Simpson Millar to act in this case, who are acting at reduced rates.

The letter issued to the Department for Education can be found here.

The legal challenge is being crowdfunded:
https://www.crowdjustice.com/case/dont-let-children-go-hungry/

Information on children and food over the summer holiday, from researcher Kartik Raj of Human Rights Watch: "The Welsh government is the first in the UK to commit to continuing to fund free school meals through summer 2020, with families of children eligible for them set to receive £19.50 per child per week until the end of August, recognising that the Covid-19 pandemic was likely to aggravate existing financial difficulties poor families face during school holidays. In Scotland, a few of the 32 individual local authorities have begun providing food to children year-round, and anti-poverty and children's rights campaigners are calling for other local governments and the Scottish government to follow suit. On May 21, Northern Ireland's education minister confirmed that cash transfers would end on June 30, and that it was up to the region's devolved power-sharing government to decide how to fund solutions to address food poverty and holiday hunger. In a May 22 letter to Human Rights Watch, Northern Ireland education authorities confirmed that they were in discussion with other departments about how to "address the impending 'holiday hunger' over the summer when direct payments stop at the end of the school term."

Sustain is an alliance of food and farming organisations that work together to improve the food system, including tackling household food security in the UK. Sustain has played a lead role in supporting the Covid-19 emergency food response at all levels – helping to advise national government, local authorities, schools, food aid providers and frontline community groups, especially to help vulnerable people access the food they need.

The Good Law Project is a not-for-profit that uses strategic litigation for a better world. Its past successes include a series of landmark constitutional cases to protect the sovereignty of Parliament. Good Law Project's founder, Jolyon Maugham QC, continues to work unpaid.
---
Media enquiries
Contact: Trish Murray, Good Law Project, 07905 277 508, trish@goodlawproject.org
For case studies, research or data, contact: Jo Ralling, 07770 500 858 jo.ralling@foodfoundation.org.uk
Available for interviews on request:
Kath Dalmeny, Chief Executive of Sustain
Jolyon Maugham. Director of Good Law Project
Dev Sharma. Youth Ambassador who is in receipt of Free School Meals
Susanna Kemp. CEO, Laidlaw Foundation. The Laidlaw Schools Trust is a growing multi-academy schools trust based in North East England, where 60% of students are eligible for Free School Meals
Support our charity
Donate to enhance the health and welfare of people, animals and the planet.
Published 5 Jun 2020
Right to Food: Everyone has the right to enjoy safe, nutritious and sustainable food. This project advocates the realisation of the Right to Food in UK law.
Support our charity
Donate to enhance the health and welfare of people, animals and the planet.