Get involved in the End Hunger UK Week of Action 11 – 18 October 2019
Calling all those on the frontline of food poverty! Join us during the End Hunger UK Week of Action 2019. We will be raising awareness of hunger in the UK and telling the Government that they must take action to ensure that everyone has enough money to afford good food, and that no-one goes to bed hungry.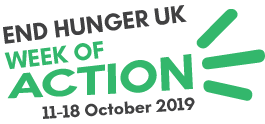 We will be providing lots of support and resources for anyone who wants to get involved. You can take part by either arranging a meeting with your MP or organising an event locally any time during the Week of Action, or by coming to London for the Day of Action on Wednesday 16 October. Or both!
On the Day of Action, people on the frontline of food poverty - those with lived experience, volunteers providing food aid, those involved in campaigning - will be coming together to share stories, learn new skills, watch (and maybe sing with!) the End Hunger UK Foodbank Choir, and go to the Houses of Parliament to meet MPs. You are the experts – let's make sure that your voices are heard.
Please sign up here for more info. If you have any questions contact Annie Connolly - annie@church-poverty.org.uk.
---
20/06/2019
Food Poverty
SHARE
---
Food Poverty: Over 8 million people in the UK struggle to get enough to eat. Sustain is working with communities, third-sector organisations, local authorities and government, aiming to make sure everyone can eat well.