Growing Health hits national press front page
In the lead up to the conference Prescribing Gardening - making green care a natural part of the health service', Growing Health was the lead story in the Daily Express on the 16th April 2015.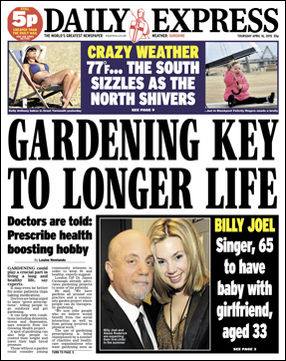 The article by Louise Newlands, health journalist for the Daily Express, covered the use of gardening prescriptions for patients with conditions such as dementia, stress, depression, weight management and lowering blood pressure as well as wider physical, mental and social benefits.
It quoted a London GP, Dr Cavanagh who advocated gardening ' We have gardens all around our practice and a community garden project where people can do therapeutic gardening. We now refer people who we believe would benefit from the social interaction as well as getting involved in physical work.'
A speaker at the conference, Professor Jeremy Levy, Director of Education and Quality at Health Education North West London, was quoted 'Investing and supporting food growing and gardening as part of our health service is a cost effective way to improve health as well as prevent ill health'.
Advocating the use of community food growing, Sarah Williams, project manager for Growing Health was also quoted 'we know that there are an array of benefits for people who get outdoors and get their hands in the soil. they include being active, getting fresh air and meeting others. What we would now like to see is more GPs signposting their patinets into these outdoor growing activities as a more cost effedtive way of keeping people healthy'.
The article continued onto page three and concluded in saying that a Government health adviser Dr William Bird urged the NHS to acknowledge the power of the great outdoors and the cost savings it could bring.
Support our work
Your donation will help communities to make the case for the health benefits of food growing.