Fab five! New student food enterprises launched
The first five student-led food enterprises supported by Sustain's Food Co-ops Network, were launched earlier this year with funding from the NUS Student Eats programme. Following the first few months of trading, we check in on their progress.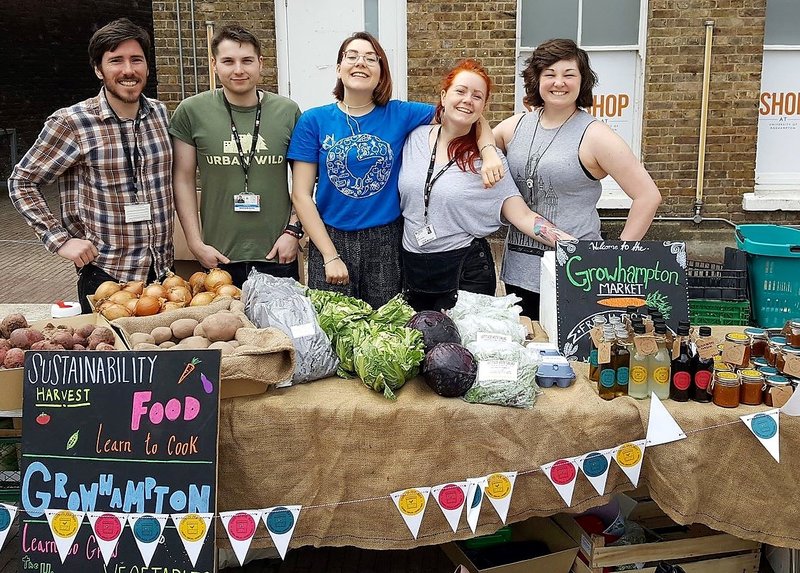 The inititative will support 30 student-led food co-ops, buying groups, veg bag schemes and other food enterprises covering the length of the country, alongside the wider Students Eats programme funded by the Big Lottery to support over 60 enterprises. Here we profile their first steps in good food trading.
City Food Co-op, City University, London
Launched in February this year and modelled on the successful food co-op at SOAS, University of London, City Food Co-op was set up by four students who are passionate about tasty and sustainable foods on a student budget. It stocks a range of wholefoods such as rice, lentils and snacks, which students and University staff can buy. Although they are yet to fix on a regular day for trading, you can follow their progress and find out about when they'll be popping up next on their Facebook page.
"Talking with other passionate people about food has been very enriching and we hope to keep going with this dialogue as much as possible."
Exeter VegShare, University of Exeter, Exeter
This veg bag scheme, which started to trade in March, provides freshly-picked, organic vegetables from Shillingford Organics every Wednesday. The bags are topped up with student-grown micro herbs and mushrooms when they are available, all packed and ready to take home in newly-branded hessian bags. The food co-op is proving popular with students and staff, and as the figures show, it's off to a flying start.
"During its first month, Exeter VegShare managed to fulfil 110 orders for veg bags, and by delivering 389.2 kg of vegetables, salads and mushrooms our social enterprise has successfully spread the awareness that integration of the concepts healthy, organic and affordable is possible."
This is our Jam, University of Roehampton, London
Since its launch, this preserving enterprise has been whipping up batches of spicy tomato chutney, blackberry cordial, homemade ketchup and infused oils and running Learn to Cook sessions. The scheme is part of Growhampton, which includes various food growing sites around the campus and a weekly market stall where the preserves are being sold.
"We believe our products are nothing short of delicious, and with happy customers and plans in place for future cooking sessions, we are excited to continue growing bigger and better."
Social Sauces, Blackpool and the Fylde College, Blackpool
Working with catering and hospitality students at the college, this preserve making enterprise has been trialling two flavours so far, and the sweet chilli has been flying off the shelves. Through the scheme students have not only learned to make jam, but also cost it and work out profit margins.
"We have produced 70 jars of jam in two flavours: sweet chilli and strawberry. We used a jar of each for a tasting session and held a mini pre-launch at our pop-up bakery. This was really successful and attracted a lot of interest."
Come Dine With Us, West College Scotland, Greenock
Come Dine With Us has been operating successfully as an enterprise café using produce grown on the College's allotment for the last 5 years. Now the team are expanding their operation by selling fast growing crops at the café too. The first quarter was focused on preparing the ground, putting in cold frames and planning. But, now that the weather has warmed up, production is well underway.
"All our students are very confident already but the feeling of achievement they have experienced from creating something, nurturing it and finally seeing it go to market has been huge for their motivation and self-esteem."
Find out more about the Student Eats programme.
Support our charity
Your donation will help us support communities to set up and run food coops and buying groups across the UK to improve access to healthy food.