An online Real Bread Campaign event for SME bakery decision makers.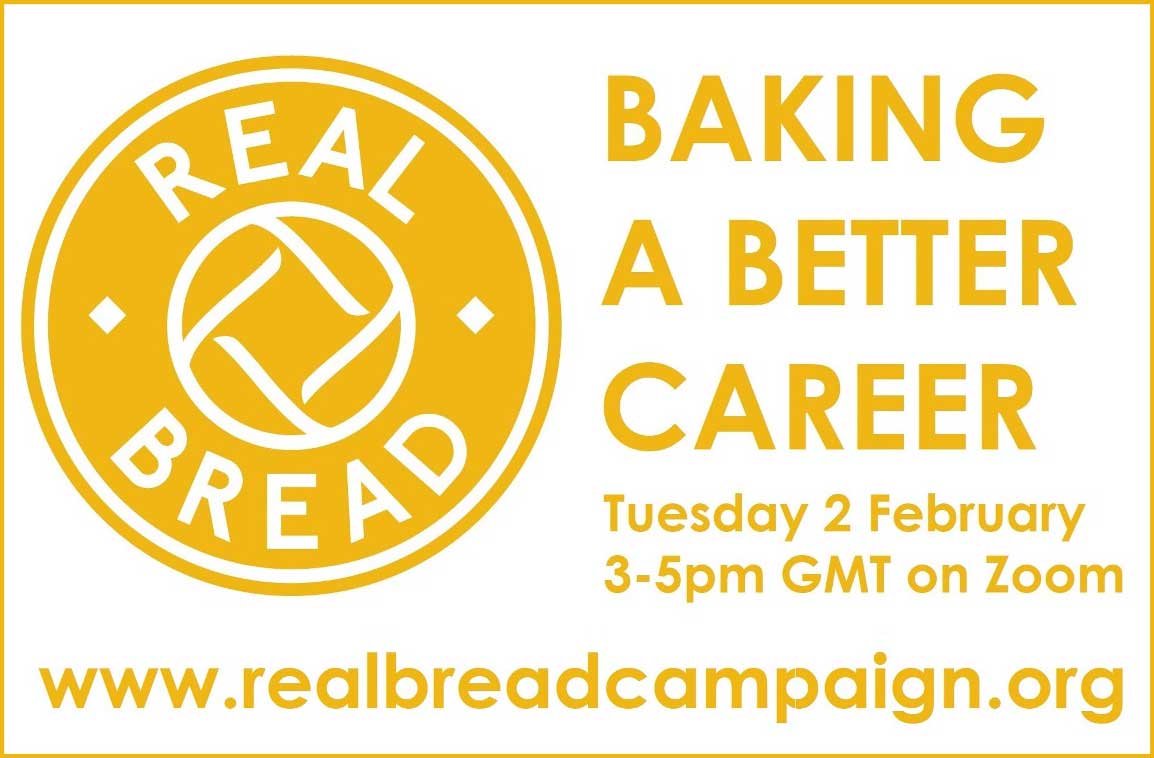 Tuesday 2 February, 3-5pm GMT
Hear Real Bread bakery professionals share their experiences of running successful, profitable businesses in ways that better support their team members physically, psychologically and financially. This peer-to-peer event will also include opportunities for participants to ask for – and share - information and advice.
It will focus on topics including production scheduling and staff hours; involving team members in decision making; pay and benefits; and building mental wellbeing into a bakery's opps and culture.
The panellists
Four speakers, from both sides of the Atlantic, will each spend ten minutes outlining one aspect of their business-boosting, employee-focussed activity:
Laura Bullock, owner, Seven Hills Bakery, Sheffield: Being a Living Wage employer.
Mel Darbyshire, head baker, Grand Central Bakery, Seattle and Portland: Fighting the employees' corner in business decisions.
Ryan Morgan, owner and head baker, Sixteen Bricks, Cincinnati: Investing in bakery equipment as an investment in your team
Cindy Zurias, baker and consultant, 26 Degrees: How I abolished the night shift.
This will be followed by a Q&A with the panellists for all participants, and then time to make comments and general chat about baking a better career.
How to book
Advance booking is essential.
Tickets are FREE but a donation (suggested £10) to help the Real Bread Campaign continue its work would be very much welcomed.
We will send the Zoom link to participants closer to the date of the event.
Who's this for?
This particular event is designed for people who make HR, operational and other decisions that affect people in an SME bakery. Other team members are also welcome to participate, and some elements might be of interest to sole trader microbakers, though the focus is on small, Real Bread bakeries with employees.
The event is being run by the Real Bread Campaign in collaboration with baker Cindy Zurias and Roots to Work – the charity Sustain's good food jobs site. It is intended as the start of a longer, wider conversation about businesses going beyond current employment law and common practice in the sector to make Real Bread baking a more inclusive, sustainable and rewarding career.
About the panellists
Laura Bullock is the founder and owner of Seven Hills Bakery in Sheffield, celebrating their 10th anniversary this year. The bakery currently employs 10 people and has been a Living Wage accredited employer since April 2016. Largely self-taught, Laura's training also included graduating from the School of Artisan Food's inaugural Advanced Diploma in Artisan Baking course and working in a number of artisan bakeries. A hands-on owner, Laura says: "I have done every job in the business at one point or another. The only thing I don't do is drive!"
Mel Darbyshire is the head baker of Grand Central Baking Company. Mel has been baking for over 20 years. She focuses on working with local farms and mills to bring regional grains and artisan practices to high volume baking, and to support a sustainable local economy. She oversees the bakery production operations, including all recipe development, education and training, at the company's Washington and Oregon production facilities. Over the years, Mel has been involved in teaching classes for the Bread Bakers' Guild of America and at The Bread Lab. Grand Central Baking Company is locally owned and operated and has been baking artisan bread and pastries since 1989 Their mission is to serve delicious, authentic food made from high-quality local and sustainable ingredients, while growing a healthy, values-driven business.
Ryan Morgan is the founder, owner and head baker of Sixteen Bricks in Cincinnati. "I live by simple rules: Ride a motorcycle, be good to people and bake Real Bread."
Cindy Zurias was born and raised in Venezuela. Her passion for sourdough drew her away from cheffing and into the bread world where, eventually, she became head baker of one of the largest artisan bakeries in London. There she developed operational and management strategies to help bakeries be more efficient. This means greater profits; it also means advancing staff wellbeing, goals that Cindy believes work together. At the height of the pandemic, her techniques returned record profits, whilst eliminating the night shift. Her dream now is working towards a new, efficient, healthy and sustainable bakery world. She wants to see healthier bread and healthier bakers.
The event will be hosted by Real Bread Campaign co-ordinator Chris Young and Roots to Work's Abi Taylor.
Notes
The event is free but any donation is welcome and will go to the charity Sustain to help it continue running the Real Bread Campaign.
Donations will only be refunded if the participant cancels up to one week before the event, or if the event is cancelled by the organiser.
Panellists are donating their time and the line-up is subject to change without notification.
Participants are encouraged to join the event waiting room around five minutes before the published start time, when they will be admitted.
Questions can be asked verbally and via the Q&A function, though the organiser can't guarantee all questions will be taken and answered.
By attending, participants understand and agree that videos and comments from the event will be sent to other participants, and may be made available more widely.
The organiser reserves the right to block any attendee who is abusive, or otherwise disrupts the event.
Participants will be invited to give feedback to help decide next steps and shape future events.
Participant details will be held securely and used in accordance with Sustain's privacy policy.
If you make a donation, Eventbrite will add a small, non-refundable fee.
Real Bread Campaign: The Real Bread Campaign finds and shares ways to make bread better for us, better for our communities and better for the planet. Whether your interest is local food, community-focussed small enterprises, honest labelling, therapeutic baking, or simply tasty toast, everyone is invited to become a Campaign supporter.
Support our charity
Your donation will help support the spread of baking skills and access to real bread.