Government proposing crackdown on Trojan telephone boxes
Sustain welcomes the Government's proposal to remove permitted development rights for public call boxes and has submitted a formal response to highlight why this is a good food issue.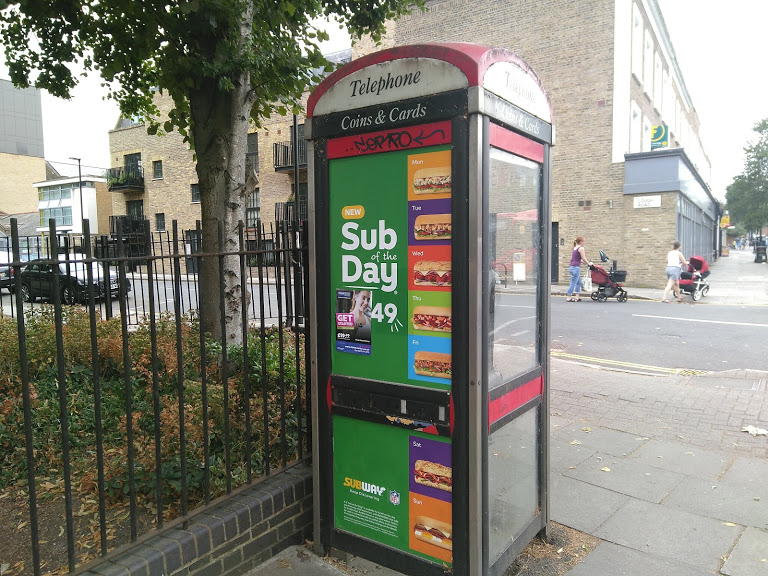 Sustian has been collecting evidence that shows telephone kiosks are being used to promote unhealthy lifestyles. Our supporters across the UK have submitted many complaints to the Advertising Standards Authority over the last year about junk food adverts on telephone kiosks, which further exacerbate the problems of diet related disease in many of these communities.

Whilst recognising there is still a need for public telephones to be available in an emergency, we find the proliferation in key locations hard to justify in terms of public benefit and environmental quality. Local authorities should be able to evaluate proposals against locally derived policies and Sustain campaigns for these to include access to healthy food. We also suggest that future planning decisions should ensure the phone kiosks are operational and not merely a way to host advertising panels.

The over concentration of street level advertising results in high streets with poor environmental quality and has a detrimental effect on public health due to the visual clutter and images promoting food that is high in fat, salt and sugar. As way of a sample to demonstrate the problem of over concentration, in December 2018 in a 17 minute walk along a Hackney high street there were 10 telephone kiosks, 9 with adverts. In a two minute walk in Morden town centre, 2 phone boxes were next to each other opposite a fast food take-away and another was 200m away. Each had two or three adverts for that take-away. These were combined with free standing illuminated advertising boards and illuminated advertising panels on bus shelters.

Our high streets are already far from healthy; the explosion of takeaways in more deprived areas shows how far our food system is failing those most at risk of diet-related ill health. Planning decisions are taken looking at the effect on "amenity". Sustain calls for this criteria to encompass impacts on healthy communities.

All means should be enacted to protect children from obesity. Councils are asking for greater powers to limit the placing of advertising from products high in fat, sugar and salt on bus stops, telephone boxes and billboards in areas in close proximity to schools, nurseries, youth centres etc.; Sustain supports their ambitions and applauds their actions. We will be publishing a guide later in 2019 on some of the steps local authorities can already take.
---
14/01/2019
Sustain
SHARE
---
Sustain: Sustain: The alliance for better food and farming advocates food and agriculture policies and practices that enhance the health and welfare of people and animals, improve the working and living environment, enrich society and culture and promote equity.