Leading politicians are calling for an end to companies using child-friendly characters on sugary foods. Children's Food Campaign agrees and says it's time for our favourite kids' cartoons to join the healthy eating revolution.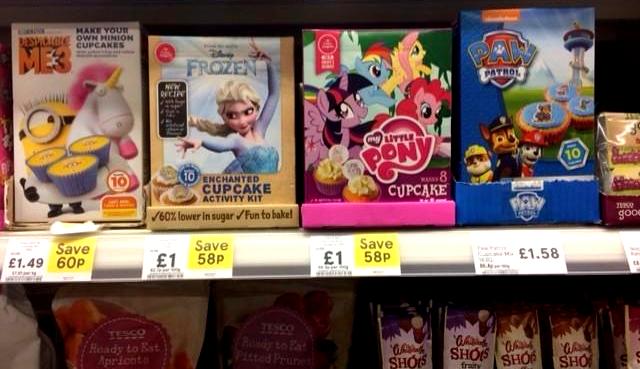 Chile has already banned child-friendly characters on breakfast cereals
The deputy leader of the Labour Party, Tom Watson MP, is calling on the advertising and food industry to stop using child-friendly characters to market breakfast cereals and other products high in sugar, in a bid to address child obesity, child tooth decay and tackle diseases such as Type-2 Diabetes.
Mr Watson says, "With child obesity at crisis levels, with a child having a rotten tooth removed every ten minutes, with teenage type 2 diabetes rising, we've got to call time on irresponsible advertising of unhealthy sugar-laden products.
"As politicians and policymakers we are saying: Get that monkey off your pack. If the industry won't reform itself, we will do it for you."
His call to is added to those of the Health and Social Care select committee whose 2018 report on Child Obesity also called for both brand-generated characters and licensed TV and film characters popular with children to be banned from use on unhealthy products on all types of media advertising. In Chile, the government has banned child-friendly cartoon characters from the packaging of all sugary breakfast cereal.
At present, advertising industry regulations prohibit the use of the licensed TV and film characters popular with children such as Peppa Pig or Disney's Frozen from being used in advertising campaigns for foods high in fat, salt or sugar (HFSS products) targeted at primary or pre-primary age children, but still allow companies to create their own brand characters, such as Frosties' Tony the Tiger, Coco Pops' Monkey or Cadbury's Freddo. Meanwhile, none of the regulations cover the use of any child-friendly brand or licensed characters on product packaging itself, or for in-store promotions, or the use of children's toys to market unhealthy products, all of which are marketing techniques known to be highly salient with children.
The Children's Food Campaign welcomes Tom Watson's comments to the industry and Labour's promise to tighten the rules, and has both called on the Committee for Advertising Practices to extend the regulations and campaigned to the Government to include such measures in its Childhood Obesity Plan. Co-ordinator Barbara Crowther says,
Parents tell us repeatedly that the use of children's favourite characters on product packaging, promotions and advertising has a marked effect on what their children ask for and want to eat. So why aren't companies and advertisers using them to encourage healthy eating? Instead we see these cartoons used predominantly to peddle junk food - the most sugary breakfast cereals and desserts, biscuits, cakes and fast food takeaways. We agree with Tom. It's time for children's favourite cartoon characters to join the healthy food revolution, and if the food and advertising industry won't act, the Government must do so.
In the Children's Food Campaign survey of parents' views on junk food marketing in 2018, 9 in 10 parents supported the idea of banning children's characters from being used to market unhealthy junk food products, and restricting their use to healthier foods. However, the Government failed to include new measures in Chapter Two of the Childhood Obesity Plan launched in 2018, but has said they will continue to monitor research and evidence on the issue.
Support our campaign
Your donation will help us champion children's rights, parent power and government action to improve the food environment children grow up in.