The Mayor of London, Sadiq Khan has announced one-off funding of £130 million to enable school meals to be provided to all primary school children in London boroughs for the 2023/24 academic year.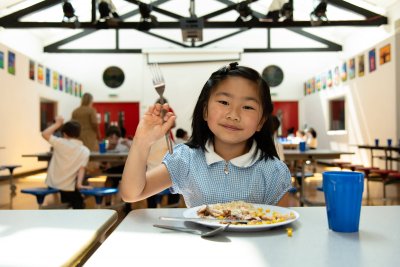 Girl enjoying school lunch. Credit: School Food Matters
Sustain heartily welcomes the Mayor's of London's one-year emergency commitment, which will support 270,000 primary school children in London, and create an inclusive approach to providing meals in schools across the capital. It effectively returns £440 per child into the pockets of hard-working London families currently having to pay for meals or provide packed lunches in the midst of the cost-of-living emergency.
Sustain has championed healthy school meals for all through its London Food Poverty, Right to Food and Children's Food Campaigns for many years, as the best and most inclusive way of preventing food insecurity and supporting children's healthy eating and educational learning. Universal primary school meals are already being introduced across the whole of Scotland and in Wales, whilst in England eligibility for free meals has been subject to a scandalously low £7,400 household earnings threshold since 2018.
Responding to the Mayor's initiative, Children's Food Campaign co-ordinator Barbara Crowther said:
"This is utterly delicious news! We applaud the mayor for announcing this vital nutritional safety net for every single primary school child in London for the coming academic year. We know a healthy meal is fuel for both brain and body, so that our children can concentrate, play and learn.

"However, healthy school food for all must not just be an emergency measure, it should be a core part of a fully inclusive education system for the long term. It would be a sound investment, as research shows that every £1 invested in healthy school meals could deliver £1.71 back in increased educational outcomes, better health and longer-term economic benefits. So our national government also needs to step up and make school food for all a permanent part of our education system and the future prosperity of the nation."
Four London boroughs have provided school meals to all primary school children for several years – Islington, Newham, Southwark, Tower Hamlets – and they were joined in January 2023 by Westminster City Council, who committed to funding primary meals until July 2024. Newham's Eat For Free initiative, which has 90% uptake in Key Stage 2 compared to 45% before universal meals were offered, also locks in commitments to healthy, nutritious and sustainably sourced meals, and living wages for workers in catering supply chains, with 60 extra jobs anchored in the community.
Sustain's Programme Director Sarah Williams, who also sits on the London Food Board, said:
"We commend the Mayor on stepping up to the plate to trailblaze ambitious and effective policies in London, showing what leadership on food issues can look like and the widescale impact these policies can have. This follows on from policies such as restricting junk food advertising, which came into force in 2019, and was championed by the Mayor. We hope that councils, with leadership from the Mayor, can now look at how to build community wealth and ensure these meals are nature and climate friendly, helping tackle the climate emergency as well as the cost of living crisis."
In making his announcement the Mayor of London, Sadiq Khan, said:
"I know from personal experience that free school meals are a lifeline. My siblings and I depended on them to eat while at school and my parents relied on them to give our family a little extra breathing room financially. The difference they can make to children who are at risk of going hungry – and to families who are struggling to make ends meet – is truly game-changing. That is why I'm so proud that City Hall is providing this funding which means all of London's primary school pupils will be able to get free school meals in the next academic year."

"I'm clear that no child should be punished for circumstances beyond their control. And yet the cost of living crisis means families and children across our city are in desperate need of additional support. I have repeatedly urged the Government to provide free school meals to help already stretched families, but my calls have fallen on deaf ears."

"Making free school meals available to all primary school pupils will also remove any stigma or social discomfort as no child is identified as poorer than their peers. As someone who can recall the shame and embarrassment I felt standing in the separate queue for those on free school meals, the importance of this can't be overstated.

"I firmly believe a civilised society ensures its children are nourished, not neglected. Supporting London's families through this cost of living crisis and helping ensure our children are properly fed is vital as we continue striving to build a better London for everyone – a city that is fairer, safer and more prosperous for all."
Read the full Mayor of London press release here
Find out more about the Superpowers of School Meals
Read more news coverage for this story
---
Published 20 Feb 2023
Children's Food Campaign: Better food and food teaching for children in schools, and protection of children from junk food marketing are the aims of Sustain's high-profile Children's Food Campaign. We also want clear food labelling that can be understood by everyone, including children.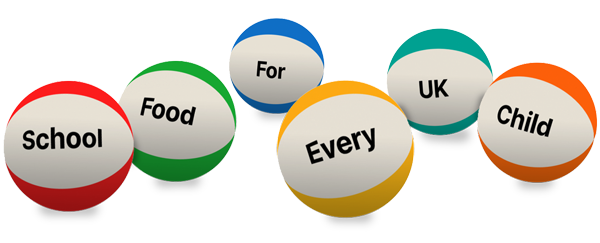 Ask your MP to end the school food postcode lottery now
Featured in the press
---
BBC
Free school meals: London's mayor launches £130m scheme for primary pupils
Barbara Crowther from the Children's Food Campaign comments.
20 Feb 2023 | Visit
The Sun
Major change to free school meals for children – will you be affected? Noa Hoffman
Barbara Crowther from the Children's Food Campaign comments
20 Feb 2023 | Visit
The Mirror
EXCLUSIVE: Free school meals for all primary kids in London, announces capital's mayor Sadiq Khan
Barbara Crowther of the Children's Food Campaign contributes.
19 Feb 2023 | Visit
The Independent
Free school meals for every primary school pupil in London as Sadiq Khan unveils £130m scheme
19 Feb 2023 | Visit
Support our campaign
Your donation will help us champion children's rights, parent power and government action to improve the food environment children grow up in.