Good Food Institute challenges UK Government to invest in sustainable proteins
Good Food Insitute Europe is calling on the UK Government to support innovation in alternative proteins to intensively produced meat, eggs and dairy, asking them to confirm £120 million in R&D funding for sustainable protein by the end of 2024.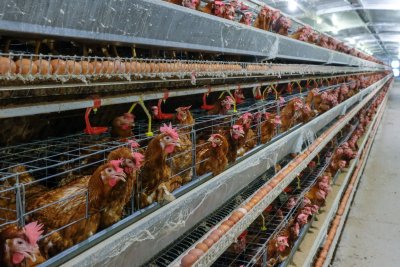 Layer chickens in multilevel conveyor production line of chicken eggs. Copyright: Mai.Chayakorn | shutterstock
Good Food Institute is inviting people and organisations interested in healthy and sustainable food to support calls for the UK Government to invest in R&D. Contact GFI Europe by email to find out more.
GFI Europe says, "Governments have a critical role to play in supporting a transition towards healthier and more sustainable diets. Plant-based, fermentation-made and cultivated meat, eggs, dairy and seafood cause far fewer emissions and require considerably less land and water than conventional animal products."
The Instute argues that these "can play an instrumental role – alongside other sustainable food production systems like high-nature value farming and British-grown pulses – in bolstering food production, improving public health and creating sustainable economic opportunities in agriculture, biotechnology and food manufacturing".
Good Food Institute Europe is calling on the UK Government to pursue the recommendation in the UK's National Food Strategy to "supporting alternative protein research and innovation, including as part of our partnership with [UKRI] to invest over £120 million in research across the food system" to stimulate innovation and support the growth of accessible and afffordable alternatives to intensively grown meat.
The Institute points out that other nations are continuing to make substantial, highly-targeted public investments in sustainable protein R&D, including Canada, Denmark and The Netherlands. They are calling on the UK Government to:
Work with the new Department for Science, Innovation and Technology and UKRI to allocate a total of £120 million in sustainable protein R&D funding by the end of 2024.
Confirm that the UK Government will only consider public R&D funding that explicitly targets plant-based, fermentation and cultivated meat, eggs, dairy and seafood as constituting part of the £120 million commitment made in the Government Food Strategy.
Bring together Defra, DSIT, UKRI and the FSA to meet with sustainable protein scientists and representatives from civil society, finance and the food industry to discuss how the UK Government can effectively deliver on its ambitions for sustainable proteins.
Support our charity
Donate to enhance the health and welfare of people, animals and the planet.