Toolkit launched to support health-promoting planning policies
The 'Planning for Healthy Food Environments' toolkit was developed by the Healthier Place, Healthier Future programme, in partnership with Sustain, to support the creation of healthier communities through health-promoting planning policies.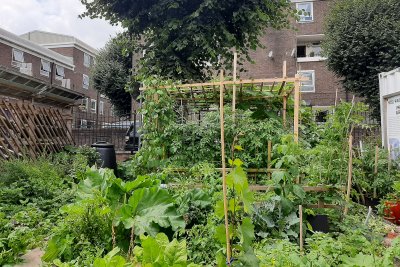 Edible garden in East London. Credit: Sofia Parente
The toolkit captures the conversations, case studies, and key learnings from the 'Planning for Healthy Food Environments' symposium held late last year. It has been produced as part of the childhood obesity trailblazer, Healthier Place, Healthier Future, one of five Childhood Obesity Trailblazer programmes funded by the Department of Health and Social Care and delivered by the Local Government Association. Healthier Place, Healthier Future is being delivered by Food Active, working with the Pennine Lancashire Consortium of Local Authorities (Burnley, Blackburn with Darwen, Hyndburn, Pendle, Ribble Valley, Rossendale).
Local Authorities are starting to consider how local food systems impact the health and well-being of communities, how this relates to their strategic objectives and the work of different departments across the authority. By using their role as local planning authorities, Councils can work with developers and communities to create healthier food environments. Case studies on how this has already been deployed are outlined in the toolkit. The case studies will help to prompt developers, urban designers, Councillors, and planners to consider the ways in which to develop our local infrastructures and environments to integrate accessible food and support healthier lifestyles.
The toolkit comprises of four key thematic areas:
Understanding the local context: how do we evidence a healthy food environment? Evidence and policies that support a good food environment, utilising tools such as food mapping, barriers to accessing food, Supplementary Planning Documents (SPDs), and more.
How can Councils support the good food economy? The use of planning tools to support a good food economy and how to support local growers with a fair price for food.
Implementing edible landscapes. An illustration of how edible spaces can be incorporated into new developments, normalise healthy food, ensure equal opportunities to grow, and outline how we need to be producing more in the UK.
Planning responses to develop healthier spaces. How planning responses have worked in designing healthier food environments and the reasoning behind these decisions.
Support our work
Your donation will help communities to engage with their planning system to create a good food environment.